On May 8th 2018, French writer Philippe Forest delivered a lecture on"Writing Paintings—Relationship between Paintings and Literature in Western Traditions" to students and teachers of Institute of French Language & Culture in Classroom 102, Building East 6. The lecture was hosted by associate professor Zhao Jia from Institute of French Language & Culture.
Philippe Forest, a celebrated French scholar and writer as well as incumbent professor of literature at Université de Nantes, graduated from Paris Institute of Political Studies in 1983, received doctor of literature from Université Paris-Sorbonne in 1991, and was once awarded the Order of French Officer of Arts and Letters and the Order of French Legion of Honour knight. He has done researches in fields like avant-garde literature and avant-garde aesthetics, literary theory, contemporary novels, western literature as well as Japanese literature, with many literary works such as L'enfant éternel which was awarded the Prix Fémina Debut Award in 1997, L'elfe en Papier, Sarinagara (awarded the December Literature Prize in 2004), L'amour Nouveau, Le siècle des nuages (awarded the French Pilotswings literature Prize in 2011).
On the basis of André Malraux and his workLe Musée imaginaire, Mr.Philippe made a brief introduction to his life and his main work La Condition humaine, and illustrated the meaning conveyed in the word "Le Musée imaginaire", namely, on a psychological level, everyone has his own museum of imagination and in his mind, each individual can conceive his own works in which the author's image and thoughts will be reflected. Mr.Philippe then elaborated the origin of paintings from the perspective of classical culture and Christian culture. Based on the concepts of mimesis and ekphrasis, he presented the relationship of mutual exchange and similar intercommunicationbetween paintings and poetry. With Diderot and Baudelaire as representatives, he described the development of art criticism and finally, he showed students the modernity of paintings and literature through analysis of related works.
Both paintings and literature are approaching reality. Writers add the imagination of painting to their creation of texts and painters seek inspiration and rationality in literature, from which we can see the close tie between paintings and literature: the connectivity in their forms and contents as well as the power of mutual learning and creation they provide for each other. Mr. Philippe introduced these details methodically and answered students' questions with patience to help students understand better the relationship between paintings and literature and broaden their knowledge and thoughts.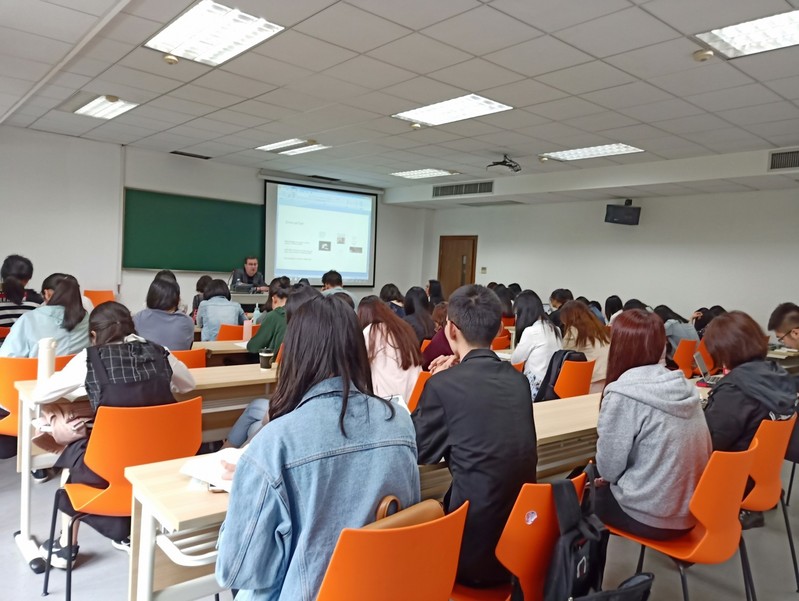 Institute of French Language & Culture
May 8,2018