On August 26th, the UN university students' summer school, co-organized by ZJU and International Training Centre of the International Labor Organization (ITCILO), featuring "building on youth talent, developing next generation of global leadership", was brought to a successful end. Funded by both Graduate School and international exchange project of Undergraduate School, it was one of the third Graduates International Workshop of ZJU.
Led by Ms. Xie Hongmei, Deputy Director of Career Development Center, Mr. Zheng Rui, General Coordinator of Global Engagement Program (GEP), as well as Ms. Gao Xiaojie, core tutor of GEP, students studied in Turin Training Center for three weeks from August 4th to August 26th, from which they benefited a lot. Meanwhile, they visited several international organizations including International Labor Organization (ILO), United Nations Conference on Trade and Development (UNCTAD), International Health Organization (WHO) and Food and Agriculture Organization of the United Nations (FAO), and had talks with their staff, which laid a solid foundation for further cooperation.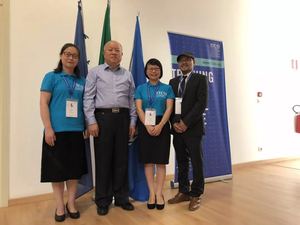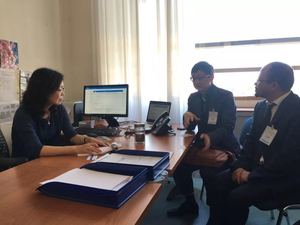 Ms. Xie, Ms. Gao and Mr. Zheng from ZJU and Mr. Liu Yanguo, Director of ITCILO (left)
Mr. Zheng, Doctor Zu Liangrong have a talk with Ms. Feng Dongxin, Deputy Director of FAO Partnership and SSC Department (right)
As Doctor Zu Liangrong, senior program officer of ITCILO put it on the opening ceremony, this summer school centered on 3Q (IQ: Intelligence Quotient; EQ: Emotional Quotient; CQ: Cultural Quotient). Guided by these three quotients, students fulfilled goals, scored progress in all dimensions with their concerted efforts.
——Tracing Back to Its Source——
ZJU has long committed to cultivating high-quality innovative personnel and future leaders with development morally, intellectually, physically and aesthetically as well as global competitiveness. To dock with Chinese strategic needs, School of International Studies (hereinafter referred as SIS) launched the GEP on October, 2015, aiming at forging elites to express China's voice, offer Chinese solutions and demonstrate Chinese wisdom.
According to strategic cooperation agreement signed by SIS and ITCILO, the two sides co-organize UN Summer School for university students and about 60 top students were sent respectively by SIS to take part in this project in 2016 and 2017, enabling it to become a flagship project of ITCILO.
Two parties continued cooperation in 2008 and held a project of summer vacation practice for university students, with a philosophy of "building on youth talent, developing next generation of global leadership." The project attracted 150 extraordinary students from 8 top-notch universities of China such as University of Science and Technology of China, Renmin University of China, Nanjing University as well as Beijing Foreign Studies University. In the future, it will move forward with larger scale and higher quality.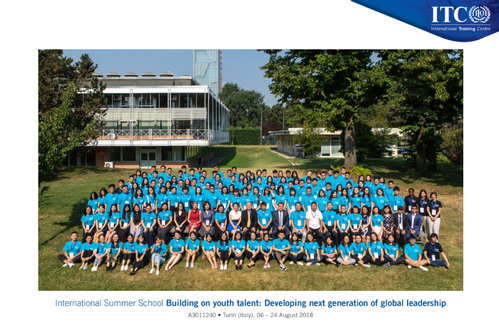 All the students and teachers attending the 2018 UN Summer School

——Nice Memory——
The summer school provided big class teaching and small class discussion, with a combination of required and optional classes, core and personal classes, giving prominence to both knowledge acquisition and project implementation, theory and practice.
The courses were usually divided into morning session and afternoon session. In the morning, about 100 students attended the same class and delivered lectures and presentations under teacher's requirements; while in the afternoon, students were, in accordance with their preferences, divided into three small classes and received themed teaching which was regarded as the practice for the morning classes. In the afternoon session, students were required to finish group task, giving themed presentation within limited time.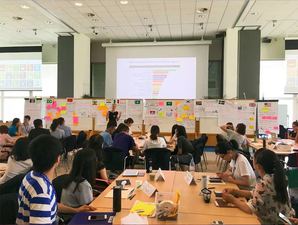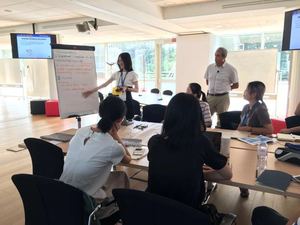 Big class teaching Small class discussion
The courses centered on 3Q. Experts invited by ITCILO taught students "core" knowledge on IQ cultivation, which were fundamental and indispensable for them to perform on international arena. Contents came as following:
1. Relevant knowledge on international organizations such as the profile of UN system, relations between The 2030 Goal for Sustainable Development and ILO, WHO and FAO.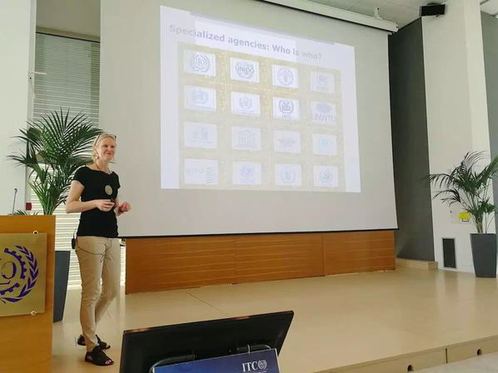 Introduction to UN institutional system by Ms. Linda Deelen
2. Relevant knowledge on social politics, economics and management such as business ethics, cooperation between government and law, social responsibility, sustainable development as well as project cycle management.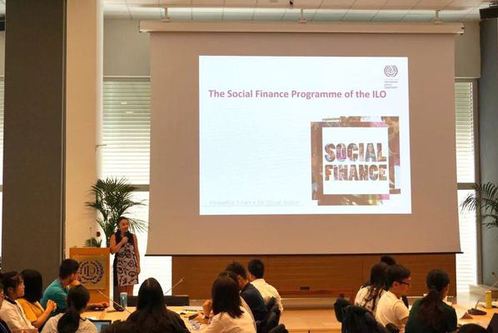 Introduction to microcredit by Ms. Margarita Lalayan
3. Relevant knowledge on personal quality such as how to work in a multicultural environment and how to improve EQ.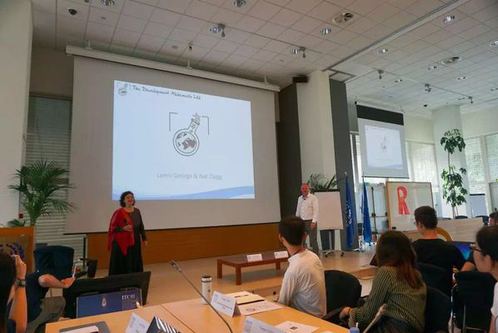 Introduction to multicultural model by Ms. Lenni George
Students learned a lot and both students and teachers benefited a great deal in interaction.
The development of EQ was reflected in the practical part of big class teaching and small class discussion. Students have remarkably cemented EQ during cooperative implementation of tasks. As Doctor Zu Liangrong stated in the course "Developing Emotionally Intelligent Leadership: A Guide for Youth", EQ means
1. self-awareness--self-management.
2. social awareness--relationship management.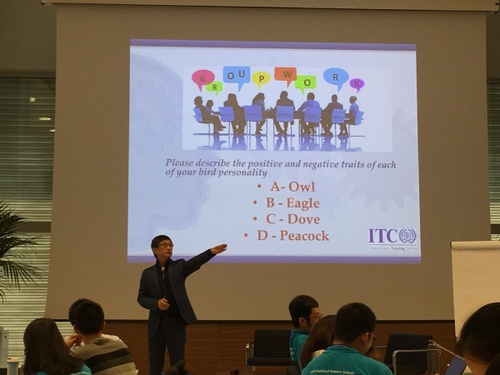 Course on EQ by Doctor Zu Liangrong
In the context of a multicultural world, CQ, standing for cultural quotient, is no less important than IQ and EQ. As reserve strengths for international elites, students should be able to communicate with people from different countries and cultures. The summer school allowed them to visit several international organizations such as ILO, Palace of Nations and FAO, experiencing work amidst multicultural architecture. Besides, they launched cultural investigations into countries and cities like Nice, France; Turin, Rome, Florence in Italy; Geneva, Switzerland, during which students' CQ was improved a lot by communicating with local people.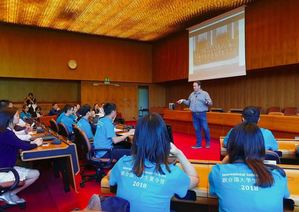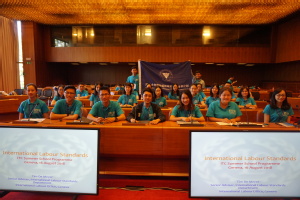 Visit to ILO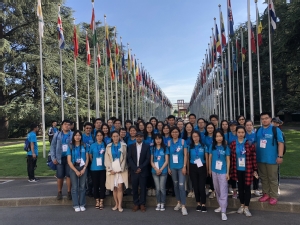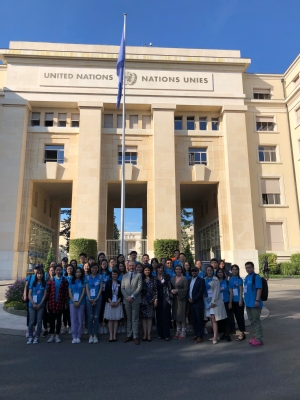 Visit to UNCTAD, Palace of Nations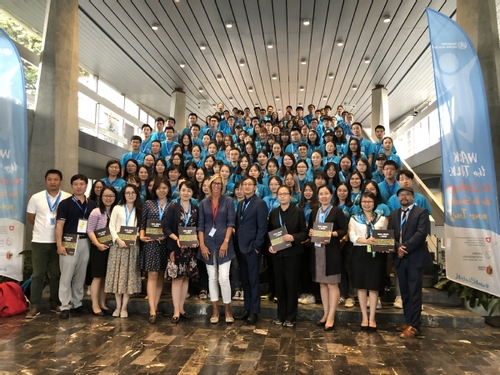 Visit to WHO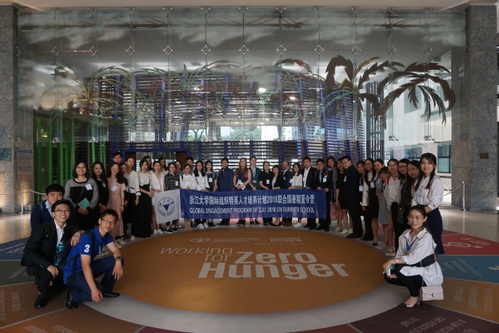 Visit to FAO
In extracurricular time, with a close focus on comprehensive development, concerts and other recreational activities were organized to enable students to show their talents as well as relax themselves.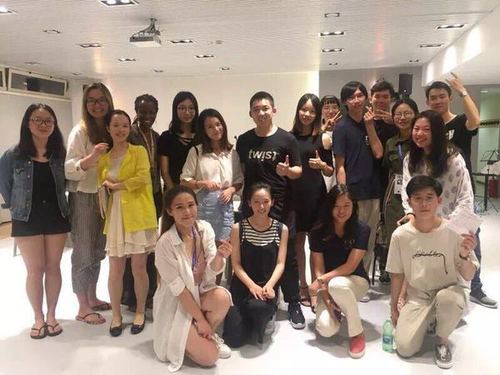 The cast of summer school concert
——Harvests——
Students summarized the whole learning trip from different perspectives.
They made progress in class. Just as Arthur Clark's epitaph reads, "I never grew up, but I never stopped growing." We could never reach the border of knowledge, but we never stopped learning. In a broad sense, as Cao Yuchen commented, they got exposed to special knowledge on international organizations and business management, by which they enhanced their creativity. Meanwhile, they fully understood the significance of cross-cultural exchange and cultivation of university students, applying it into practical use. In a narrow sense, Yuan Rufan regarded every class as a romantic dating worth to remain open and curious, from UN sustainable development goal to green work and green economy, from corporate responsibility to project cycle management, from cross-cultural communication to Chinese calligraphy and from innovation and entrepreneurship management to law-based governance.
The humanistic trip of three weeks was their second class. The trip to Rome reminded Mao Mingzhi of Vatican and Roman Colosseum thousand years ago. Meanwhile, the visit to Venice triggered the romantic memory of Kuang Keying, just as the lines of A Little Romance wrote, "We could kiss under the bridge of sighs when the bells tolled at sunset". When appreciating splendid sceneries of different countries, we are immersed in blue ocean, fresh air and light heart as well as rich culture and history.
They applied what they have learned into daily life. Excellent student Fang Yuan'an set store by understanding and acceptance, adhering to the freedom of thinking and openness of value thinking. Student Lv Wangyang highlighted the importance of respect in state-to-state relations, requiring us to pay optimum respect to different cultures, religions, etiquettes as well as customs.
——Looking Forward to Future——
Students spent three weeks accommodating to European lifestyles, during which they became gradually confident and proficient in cross-cultural communication. This activity made a difference in elevating their 3Q and brought them with many friends sharing common goals, embedding the philosophy "building on youth talent, developing next generation of global leadership" into their minds, which is also the initial aspiration of this project.
Against the backdrop of globalization, international community is in much need of elites to make differences, which calls for intensified output of talents for international organizations so as to better serve China, as well as the whole world. Yuan Rufan pointed out that "I" plus "UN" equaled infinite possibility for individuals while "we" plus "UN" meant larger arena and more unswerving attitude for our motherland.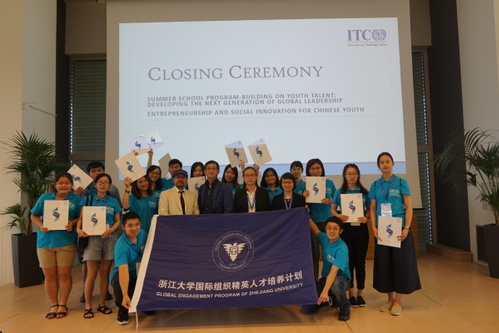 ZJU students and teachers in closing ceremony

They became familiar with international organizations after a 21-day study.
Zhou Yien, a Singaporean student at ZJU said, "This trip has truly been meaningful and memorable. I have benefited much and hope to apply all that I learnt to create a better United Nations, a better world and a great China!"
As reserve strength of international talents, we gradually figure out that when we express China's voice, tell China's stories and defend for China on international arena, we shall not forget to bear the whole world in our mind. We are duty-bound to stay upright, pay respect to culture diversity and uphold world peace and development with professional levels and the principle of serving all human beings.
The ending of summer school marks a new start for exploring international organizations.
"I" am created by previous efforts.
Don't hesitate, don't be depressed;
Help others independent and rich as you do,
Focus on efforts rather than harvests.
International talents, here, in ZJU!
Thanks for the contributions from the following students: Fang Yuan'an, He Jia, Huang Hanxiao, Jiang Runjing, Kuang Keying, Lv Wangyang, Mao Mingzhi, Yuan Rufan, Zhang Zijun and Zhou Yi'en
School of International Studies
September 1st, 2018
Written by Huang Hanxiao, Guo Jie, Cao Yu
Photo by Chen Yunyang, He Tianxi
Translated by Liu Liu and Shang Xiaoyi
Edited by Xu Xueying