From October 19 to 21, 2018, the 19th annual conference of China Association for the Study of American Literature (CASAL) was held at Zhejiang University. Themed on "American Literature and China in the New Era", it was hosted by the CASAL and organized by School of International Studies (the SIS), Zhejiang University. 356 experts, students and teachers from over 130 universities, research institutes and publishing houses attended the conference, where studies on the relationship between American literature and China was deepened and Chinese perspective, approach and view of American literature studies retrospected and promoted.
On the morning of October 20, the opening ceremony was held in the Waterside Conference Hall of Zijingang Campus. Prof. Cheng Gong, Dean of the SIS, and Prof. Zhu Gang, President of the CASAL delivered a speech respectively and extended their warm welcome to the experts, students and teachers. Dean Cheng Gong illustrated the importance of this annual conference and introduced the history and development of the SIS. Then Prof. Zhu Gang outlined the development of the CASAL for 40 years since its establishment and expressed his wish that the young generation of American literature researchers can carry forward this cause and forge ahead.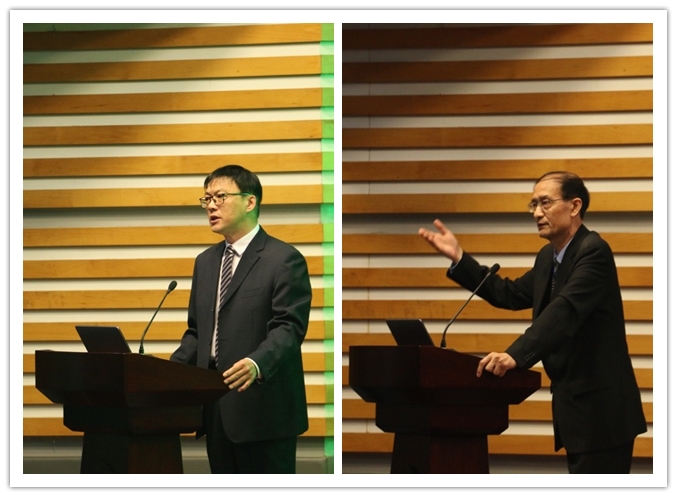 On the morning of October 20 and 21, 14 experts and scholars at home and abroad delivered keynote speeches.
On the morning of October 20, Sheng Ning, Researcher of Chinese Academy of Social Sciences (CASS) first shared his ideas of China's studies on American literature. Prof. Wang Ning from Shanghai Jiao Tong University said that as Chinese literature and theoretical criticism of Chinese literature are indispensable to world literature and its theoretical criticism, Chinese scholars should actively engage in dialogues and discussions with mainstream scholars worldwide. Prof. Nie Zhenzhao from Zhejiang University gave a systematic introduction to the concept and framework of literary ethics criticism. Lu Jiande, Researcher of the CASS discussed the self-criticism in American literature. Prof. Yang Caijin from Nanjing University introduced eco-literature ideas and academic contributions of American scholar Lawrence Buell. Prof. William Baker from Northern Illinois University of the United States gave a brief analysis of some works of Chin Yang Lee, Hsi-Tseng Tsiang and Amy Tan. Prof. Gaofen from Zhejiang University held that studies on foreign literature in China in the new era should start from China's most original ways of thinking and thoughts and spread Chinese ideas universal and innovate them in the dialogues and exchanges between Chinese and western cultures. In addition, Prof. Jin Li from Beijing Foreign Studies University, Prof. Yu Jianhua from Shanghai International Studies University and Prof. Shi Jian from Sichuan University hosted the keynote speeches and remarked on these reports.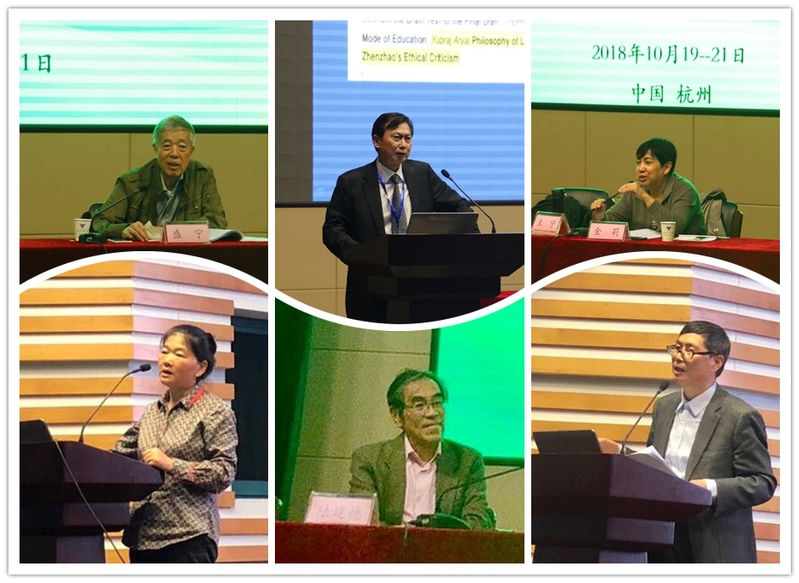 On the morning of October 21, Prof. Cheng Zhaoxiang from Peking University reviewed the subtle changes of Sino-American relations in academic studies and politics. Prof. An Feng from Tsinghua University explored the cultural appeals and understanding of American Indian writers. Prof. Zeng Yanyu from Hunan Normal University summarized the research of Chinese academic circles on American novels in the 21st century. Prof. Zhang Helong from shanghai International Studies University investigated the first Chinese translation of Washington Irving's Rip Van Winkle in the context of Chinese modern history and culture. Prof. Chen Shidan from Renmin University of China outlined the core ideas of post-humanism. Prof. Ning Mei from Guizhou University discussed the impact of Chinese culture on Snider's ecological thought of "Place" from the perspectives of philosophy, aesthetics and practice. Prof. Wang Zhuo from Shandong Normal University put forward that the visual arts and Confucianism in The Cantos are two clues to Ezra Pound's pursuit of aesthetics and Confucianism. Prof. Guo Qiqing from Beijing Foreign Studies University, Prof. Lin Yuanfu from Fujian Normal University, Prof. Shen Fuying from Shandong University and Prof. Guo Yingjian from Renmin University of China presided over the conference one after another and gave sincere comments.
On the afternoon of October 20, 30 parallel sessions were set up for topics including "American Literature and Chinese Culture", "American poetry and Chinese Culture", "Translation, Communication and Influence of American Literature in China", "Asian Writing in American Literature", "Racial Writing in American Literature", "Ecological Dimension in American Literature Studies", "Literary Theory Studies", "Studies on American Literary Writers and their Works", "Ethical Dimension in American Literature Studies", "Studies on Teaching in American Literature", among which, the first four center on studies of the ties between American literature and China. It could be seen from the heated discussions that Chinese elements and Chinese perspectives in the studies of American literature have drawn increasing attention in academic circles. The last six, presenting the diversification of American literature studies currently from race, ecology, ethics, form, to culture, thoughts and aesthetics, showed the situation of "a hundred flowers blooming and a hundred schools of thought contending" in American literature studies.
In this seminar, Prof. Jin Li, Prof. Guo Qiqing, Researcher Wang Fengzhen, Prof. Zhu Gang, Prof. Chang Yaoxin, Prof. Yang Renjing, Prof. Wang An and Prof. Yu Jianhua respectively hosted eight seminars for graduate students, where they also made in-depth remarks to both graduate and undergraduate students from topics, perspectives, methods and norms.
After the keynote speech on the morning of October 21, the closing ceremony was hosted by Prof. He Ning from Nanjing University. Prof. Zhu Gang, President of the CASAL delivered a summary speech and made public the decision of the standing council and the council as well as outstanding papers selected by the conference. With large scale and numerous participants, the conference was brought to a successful end by warm applause and was highly recognized by experts, students and teachers as papers by young scholars were well presented, academic reports finished in time with vivid pictures and expressions, pleasant academic exchanges lasting forever.

Written by Zheng Jieru, Ma Ye
Translated by Shang Xiaoyi and Liu Liu