From October 26 to 27, 2018, the 12th National Conference and International Forum on Interpretating, jointly sponsored by Translators Association of China and Beijing International Studies University, was successfully held at Beijing International Studies University. Led by Professor Liang Junying of School of International Studies, the interpretation research team, including Yang Meiling, Liu Yiguang, Jia Haibo, Lin Yumeng, Huang Xingyuan, Liu Meijun, and Ran Jia participated in the forum.
With the theme of "Multilingual Interpretating in the New Era: Opportunities and Challenges", the Forum organized 10 keynote speeches and 15 parallel sessions, attracting a total of 250 experts, researchers on interpretation, interpreter and media representatives at home and abroad.
I. Keynote Speeches
Present at the conference were ten distinguished experts at home and abroad including Franz Pöchhacker, Professor of Interpretation Studies at University of Vienna, Laura Burian, Dean of Graduate School of Translation, Interpretation and Language Education, Middlebury Institute of International Studies at Monterey, Li Defeng, Director of Centre for Studies of Translation, Interpreting and Cognition at University of Macau, Chen Jing, Director of Xiamen University Research Institute of Interpreting Studies, Yang Ling, Dean of School of Japanese Language, Literature and Culture at Beijing International Studies University, Zhong Weihe, Chairman of the Interpretating Committee and Standing Vice Chairman of Translators Association of China, Li Zhengren, former Director of the Interpretation Division of the Department for General Assembly Management of the United Nations Office at Geneva, Ren Wen, Chairman of the MTI Expert Committee of Beijing Foreign Studies University, Yu Yang, CEO of Global Tone Communication Technology Co., Ltd., and Professor Liang Junying from School of International Studies, Zhejiang University, respectively delivered brilliant keynote speeches. They exchanged views on topics such as interpretation teaching, cognition, prospects, AI and interpretation.
I. Paralle Sessions
The 15 sessions were held on the afternoon of 26th and on the morning of 27th October, covering a wide range of topics on interpretation studies. Professor Liang Junying served as an commentator in the two sessions "Interdisciplinary studies" and "Corpus Interpretation Research", and three doctoral students and one master student of the SIS demonstrated their research results as representatives.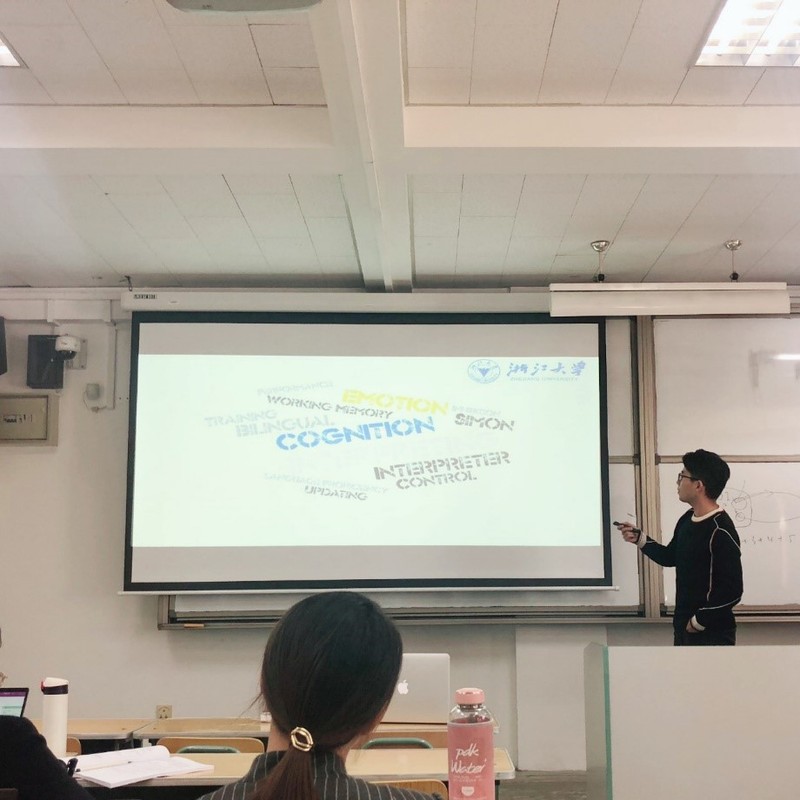 With the topic "The Effect of Interpretation Training and Emotion Intensity on Cognitive Control", Liu Yiguang's study, selecting Simon test and switching tasks, explored the effects of interpretation training and emotional intensity on cognitive control with a two-factor experimental design. After the report, some listeners showed strong interest in this study and had in-depth discussions with him. Professor Li Defeng and Professor Liang Junying thought highly of this study for its clear design, and put forward valuable suggestions for improving the study.
The study of Yang Meiling and Jia Haibo, entitled "Automatic Evaluation Method of Interpretation Quality based on Coh-Metrix Model", aims to predict the scores by judges in the interpreting contest by combining statistical analysis and automatic regression methods, and applying the text automatic calculation index of Coh-Metrix tool. Professor Ren Wen and Professor Han Chao affirmed its significance in understanding the composition of interpretation performance and development of automatic scoring technology.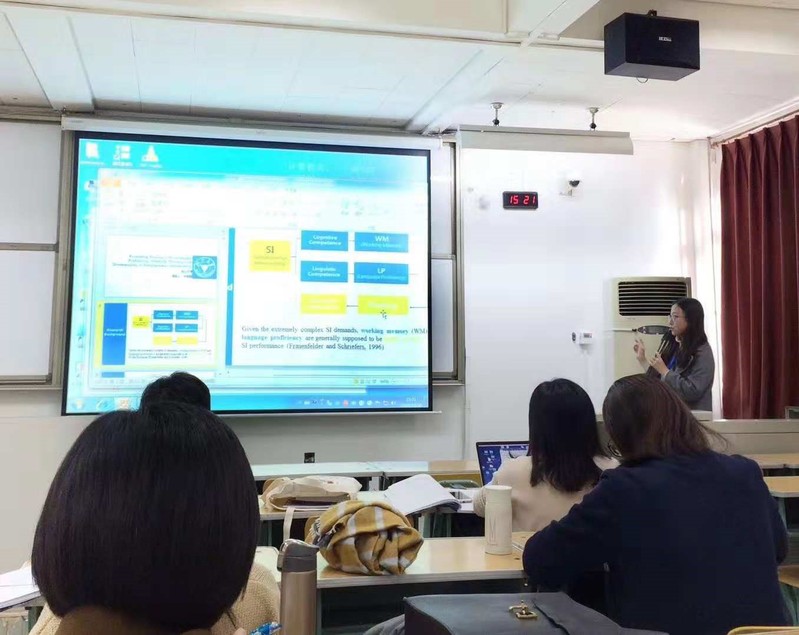 Lin Yumeng shared a paper entitled "Predicting fluency with language proficiency, working memory and directionality in simultaneous interpreting", which explores the effects of language competence, working memory and directionality on simultaneous interpretation fluency, and introduces independent variables (language ability, working memory, interpretation direction) and five non-fluency indicators into the regression model. The results demonstrate the important role of working memory relative to language proficiency in simultaneous interpretation fluency, and support the view that student interpreters perform more fluently in simultaneous interpretation tasks in English-Chinese translation.
The students of the SIS have gained full achievements in this forum, which, we believe, will be of great benefit to the interpretation research team for their future studies.
Closing Ceremony
The closing ceremony on the afternoon of October 27 marked its successful conclusion. At the closing ceremony, Professor Liang delivered a keynote speech entitled "Quantifying interpreting types: Is consecutive interpreting easier?", introducing the quantitative analysis research of interpretation types in three areas, namely, research purpose, methods and innovations, with particular emphasis on the importance of innovation, interdisciplinary studies, and following academic frontier.
At this Forum, following the philosophy of "Seeking Truth and Pursuing Innovation", the students and teachers of Zhejiang University gained a lot through listening to the speeches, participating in the discussions and exchanging ideas. We believe they will continue to move forward with achievement and explore more in interpretation studies.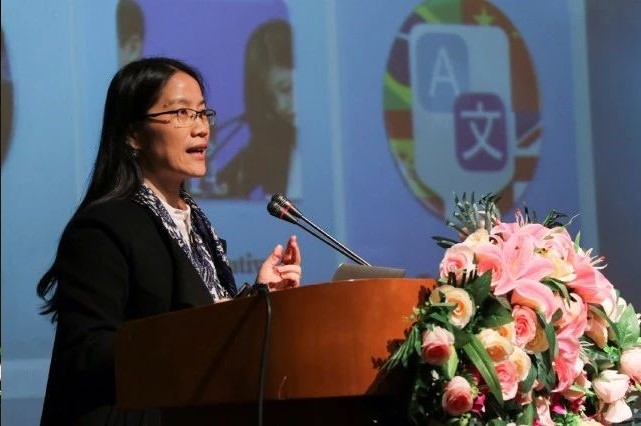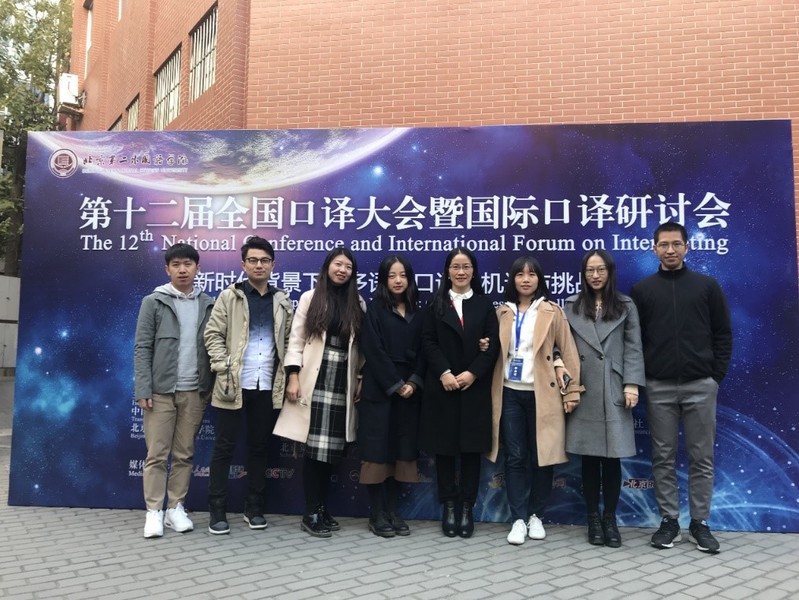 School of International Studies
Written and photoed by Ran Jia
October 31st 2018
Translated by Zhan Bingbing and Li Qian
Edited by Xu Xueying