Shakespeare's Sonnets
--Rethinking
Current Comments
On the afternoon of October 16, 2018, Professor William Baker gave a lecture entitled "Shakespeare's Sonnets--Rethinking Current Comments for students and teachers of School of International Studies (SIS) at Rm. 201 of Building East 5. The lecture was hosted by Professor Hao Tianhu, with the presence of Professor Gao Fen and Associate Professor Zhu Zhenyu. Professor William Baker, senior professor of Northern Illinois University and visiting professor to Zhejiang University and Shanghai Jiao Tong University, has published 20 monographs and over 100 papers in his teaching of more than 40 years. He gave lectures entitled "Studies on Shakespeare's Plays" at the SIS in 2015, bringing the educational concepts, thoughts and models of American universities to Zhejiang University.
Professor Baker explained Shakespeare's Sonnets 18, 29 and 30by intensive reading of the text with formalism theory. After reading Sonnet 18 with passion, Professor Baker analyzed the classic sonnet of iambic pentameter word for word. He mentioned a few language skills endowing texts with complicated meanings including paradox, ambiguity and the factors enhancing the literariness of poetry including anaphora and rhyme. Later, Professor Baker recited Sonnet Twenty-nine. He illustrated the poem by analyzing formalism factors of poetry including rhythm, rhyme and poetry decomposition and focused onthe ambiguity of poetry language by highlighting nouns, verbs and artful words. After that, Professor Baker introduced the reception history of poetry with further illustration of poetry and its religious properties. Besides, he mentioned poet T.S.Eliot and novelist George Eliot who quoted the poem in their works. He also gave a detailed analysis of metaphorical words of Sonnet Thirty and indicated the poet's change of mood from negative to positive. According to Professor Baker, the above mentioned analytical methods can also be applied toother Shakespeare's sonnets.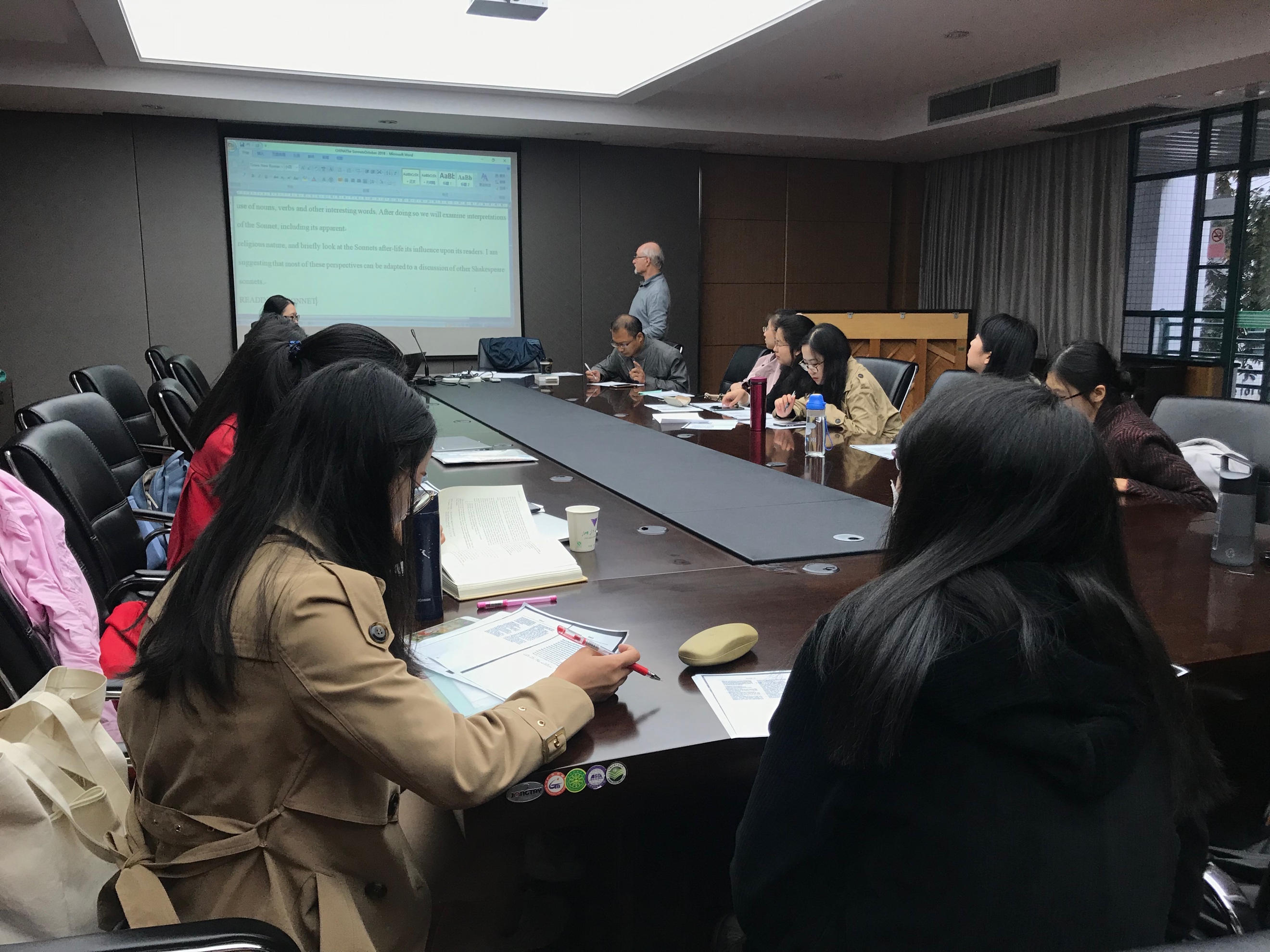 In the lecture that lasted for three hours, Professor Baker, byintegrating contemporary critical theory with classic poetry texts to understand literature, increased students and teachers'knowledge about Shakespeare and their ability to appreciate poems. The informative lecture ended with Professor Baker's appreciation of Professor Hao Tianhu's idea on edition bibliography.
Translated by Li Jia and Zhou Xingchen
Edited by Xu Xueying