On September 23, 2018, the 6th Chinese-German Forum (2018) "International Conference on Chinese-German Relations in the New Era" was held at Tongji University. Six students, Yu Ziqi, Wang Yanni, Hu Wenjie, Shen Yuqing, Xiao Yingtong and Li Jiayan, from Global Engagement Program (GEP) of Zhejiang University, were invited to the Forum. The Conference consisted of four sessions: the Policy toward China of the Merkel Administration 4.0, Current Hot Topics of Sino-German Relations, Sino-German Cultural Exchanges, and Sino-German Relations and China-EU Relations.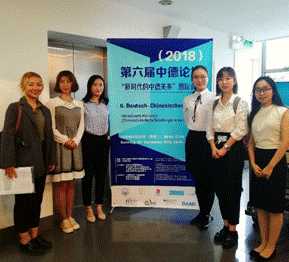 Students from GEP in the Forum
Those who were present at the Conference were mainly experts and scholars from Tongji University and University of Bonn, Germany, as well as some experts and scholars from other institutions. Experts explained the "Sino-German relations in the new era" and had interdisciplinary communication with each other. GEP students gained a lot from this international academic conference.
At first, Professor Wu Zhiqiang, Vice President of Tongji University and Academician of the Chinese Academy of Engineering, and Professor Stephan Conermann, Vice President of University of Bonn, delivered the opening speech and introduced the framework of the conference. The conference set up from a big picture had a special meaning for both China and Germany. First of all, at the 19th National Congress of the Communist Party of China, President Xi announced the socialism with Chinese characteristics has entered a new era, which is a new start for China's future development. The report of the Congress read the general goal of diplomacy with Chinese characteristics is to construct new international relations and a community of shared future for mankind. Secondly, Merkel was finally re-elected after a reshuffle in the cabinet in Germany. What new opportunities and challenges will Sino-German relations face in the new era? How will China and Germany be affected in the increasing uncertainty of globalization? In the conference, experts and scholars expressed their opinions and communicated with each other.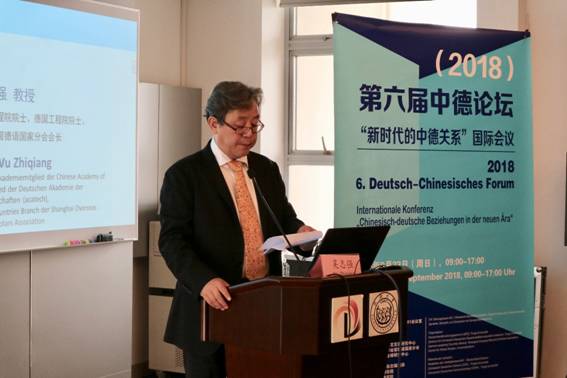 Professor Wu Zhiqiang was delivering a speech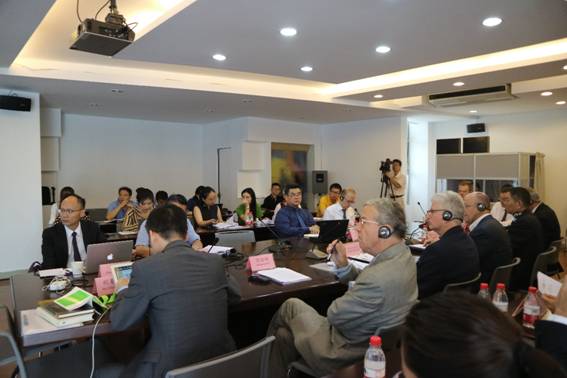 Scholars at the conference
The booth, at the corner of the room for simultaneous interpretation between Chinese and German, played an important role. The accurate and fluent interpretation by the interpreters gave the participants a deep impression.
The opening speech was followed by the first session on the Sino-German government policy. Cui Hongjian, Director of European Institute of China Institute of International Studies (CIIS), Gu Xuewu, Director of Center for Global Studies, University of Bonn, Hu Chunchun, Deputy Director, and Distinguished Professor Wolfgang Röhr at the Center for German Studies at Tongji University, respectively delivered speeches on "Triple Identity of German Foreign Policy toward China" and "The New Choice of Merkel's China Policy and Its Limitations".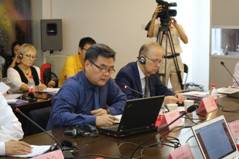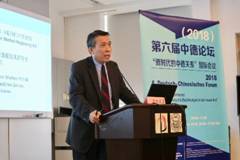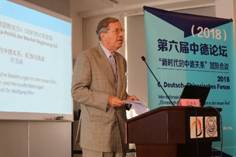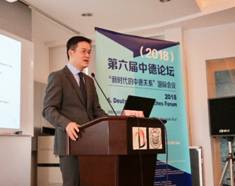 Session 1: the Policy toward China of the Merkel Administration 4.0
There was a short tea break after the first session. While enjoying the delicious snacks and fruits, participants had free talks about their favorite topics. The students from GEP also joined in the discussion and expressed their opinions.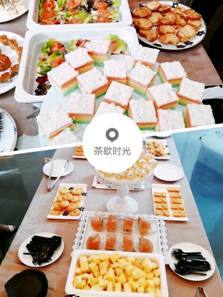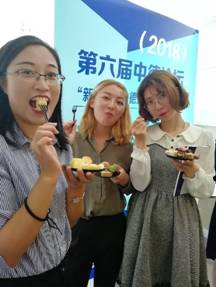 Tea break
In the next session, Tilman Mayer, Professor of political science at University of Bonn, Song Quancheng, Deputy Dean of the School of Philosophy and Social Development at Shandong University, Micheal Staack and Dan Krause, Professors at Helmut Schmidt University, Hamburg, Germany, and Doctor Zhu Yufang at Center for German Studies, Tongji University gave reports on the Belt and Road Initiative, refugees, cooperation in security, cooperation in peacekeeping operations and China's investment in German successively.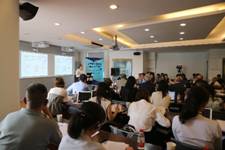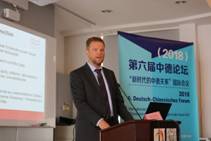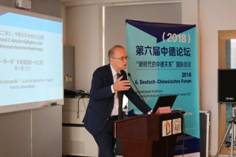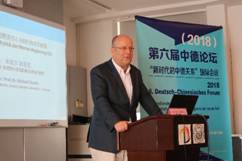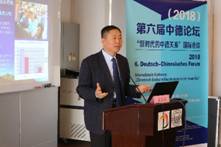 Session 2: Current Hot Topics of Sino-German Relations
In the third session, Sino-German Cultural Exchanges, Professor Stepfan Conermann gave a report "Partnership with China from University Perspective". Besides, Huang Ying and Hendrik W. Ohnesorge, Researchers at Center for Global Studies at University of Bonn elaborated on "the Changing Image of China in Germany" and "Goethe and Confucius: the Soft Power in the Sino-German Relation".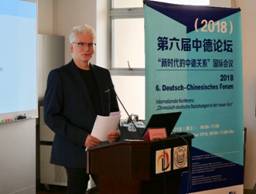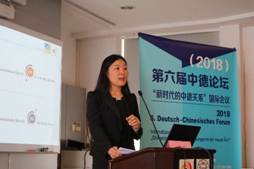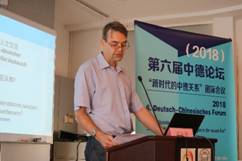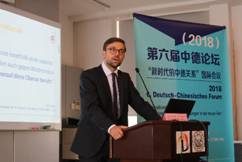 Session 3: Sino-German Cultural Exchanges
In the fourth session, Sino-German Relations and China-EU Relations, Michael Gehler, Professor of history at University Hildesheim, Germany and Permanent Researcher at the European Centre for Integration Studies at University of Bonn, gave a report on the Unity and Future of UN in the Context of the Crisis Decade (2008-2018). Professor Ludger Kühnhardt analyzed the current challenges of Germany in the EU. Finally, Professor Zheng Chunrong, Director of Center for German Studies of Tongji University, discussed the role of Germany in China-EU relations.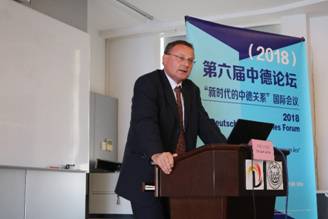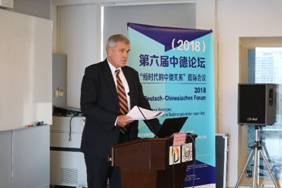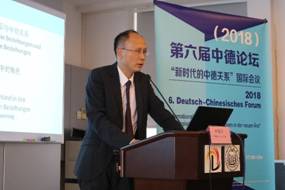 Session 4: Sino-German relations and China-EU relations
Four sessions provided multi-dimensional analyses of Sino-German relations, and the wonderful speeches benefited the participants a lot. They listened attentively and held heated discussions on the insights into Sino-German relations. In Q&A session, Shen Yuqing, a German major and member of GEP, expressed her opinion and raised the questions in fluent German.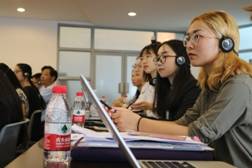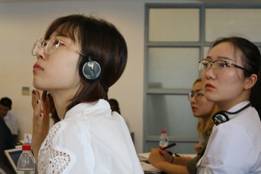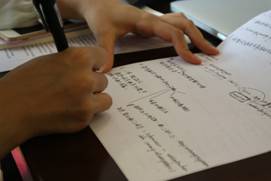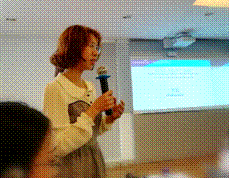 Students of GEP at the conference
After the closing remarks, the conference ended with warm applause. The scholars reached a consensus that China and Germany should join hands to be models of mutual benefits, guides for China-EU relationship, promoters for new types of international relations and cooperators beyond ideological divergences. Scholars and think-tanks from both countries should give advice and promote the bilateral relations between China and Germany to scale new heights. We, Zhejiang University students at the forum, have benefited a lot, as we not only acquired knowledge and current research in this area, but were inspired and encouraged to make academic achievements. Sincere thanks for Center for German Studies that gave the opportunity to students of Global Engagement Program of the SIS, Zhejiang University.
Feelings of Participants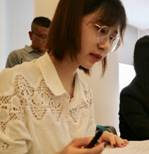 I'm very lucky to be present at this Sino-German Forum and many thanks for Global Engagement Program of the SIS that gave us the opportunity. I'm impressed by Chinese and German experts and scholars who have had much knowledge and made great achievements in their own research fields. Based on mutual respect, everyone could voice his/her own opinions. In a word, the forum was extremely wonderful.
--Li Jiayan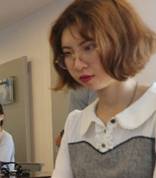 I'm privileged to be a member of the forum and I've benefited a lot. I was very much impressed at seeing the campus of Tongji University which is famous for its architectural design, especially the Sino-German Building and the Library of the German language with so many settings and resources. Thanks to the forum, I have had a better understanding of Sino-German relationship as well as global environment and analytical methods against the backdrop of the ever complicated and dynamic international situation. What's more, the simultaneous interpretation showed me the difficulty and exquisiteness of interpretation.
--Shen Yuqing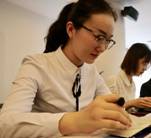 It's a rare opportunity as we could listen to comments about Sino-German relationship from scholars at home and abroad. The forum was full of meaningful contents including scholars' convincing opinions. As a result, the collision of ideas encouraged me to comprehend Sino-German relationship from different perspectives and in an all-rounded and profound way, and it's really meaningful.
--Hu Wenjie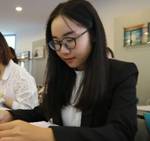 I have benefited a lot from the Sino-German Forum. Resourceful and disparate reports and opinions of experts and scholars brought life to active academic discussions. I'd like to compare myself to a sponge that absorbed comments on current affairs and knowledge of political background, so I felt refreshed and inspired. I need to take part in more activities of this kind to better my horizon and thoughts.
--Yu Ziqi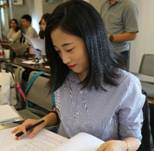 The forum benefitted me a lot. The agenda consisted of 16 speeches in 4 parallel sessions, every speaker no more than 10 minutes. Some speakers delivered such a wonderful speech that I felt 10 minutes were far from enough. The most interesting part was that ideas delivered or discussed were not obscure but incisive, as there were sensitive topics, critical comments and self-reflections. And that's why it could be called a real Sino-German dialogue. Scholars raised and answered questions actively, making the conference full of wit and humor. As a green hand in Sino-German relationship, I broadened my horizon and was determined to get more knowledge about this field.
--Wang Yanni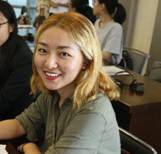 Thanks to Global Engagement Program, the SIS for involving me in the academic and international conference, a challenge and opportunity for me in my sophomore. I was deeply impressed by professional and eloquent speakers, efficient and precise simultaneous interpretation, as well as diligent organizers. In addition, both my understanding about Sino-German relationship and my passion for German soared after listening to several reports in this regard.
--Xiao Yingtong
Written by Shen Yuqing & Yu Ziqing
Translated by Zhou Xingchen and Li Jia
Edited by Xu Xueying