With the support of the 4th Zhejiang University Graduate Students International Workshop, six graduates from Zhejiang University (ZJU) participated in the program of School of International Studies (SIS) for cultivating International Organizations Talents and studied abroad together with undergraduates from Global Engagement Program (GEP) of ZJU. This overseas study program consisted of two sub-programs: Two teams led by Mr. Sun Peijian and Ms. Xu Xueying from the SIS respectively went to Brno in the Czech Republic and Turin in Italy for exchange study.
【Program】
Program 1: Summer Camp Program with Mendel University in Brno, Czech Republic in Central and Eastern Europe
In response to globalization strategy of Zhejiang University, to enhance students' understanding of the economy and politics of the central and eastern European countries along "The Belt and Road" Initiative, to promote communication between different cultures and broaden students' global vision, to cultivate cross-cultural attainments and improve language competence, the SIS of Zhejiang University sent excellent students to Mendel University in Brno, Czech Republic for in-depth learning of politics, economy, society and culture in central and eastern Europe on July 14, 2019. The project was co-organized by SIS of Zhejiang University and Mendel University, consisting of academic lectures by top professors from Czech, visits to major international organizations and practical research activities of four countries in central and eastern Europe.
Program 2: UN Generation Young Leadership Academy (GYLA) Summer Program in Turin, Italy
To better cultivate international organizations talents who have an excellent command of foreign language and international rules and be familiar with a specific field and better serve the strategy of national development, the SIS selected outstanding students to participate in Global Youth Leadership Academy (GYLA) Summer Program in Turin, Italy on August 5, 2019. They participated in the courses on international organizations, cross-cultural communication and EQ training and visited the headquarters of some international organizations in Geneva, Switzerland. This program, co-organized by SIS of Zhejiang University and International Training Center-International Labour Organization (ITC-ILO), aims to broaden Zhejiang University students' international vision and improve their competence in global governance. Students completed their study tour on August 23rd and hosted the closing ceremony with students and teachers from other 16 Chinese universities in the Piemonte Building of ITC-ILO as a perfect culmination of this three-week trip.
【Arrangement】
Mendel University in Brno, Czech Republic Summer Camp Program in Central and Eastern Europe: July 14, 2019-August 4, 2019
ITC-ILO Project in Turin, Italy: August 5, 2019-August 23, 2019
Participating universities and institutions: Zhejiang University, Nanjing University, Shanghai International Studies University, International Training Center-International Labour Organization (ITC-ILO)
Teachers in charge: Xu Xueying (team leader), Sun Peijian (team leader), Dr. Zu Liangrong (founder of the GYLA).
【Contents】
(1) Courses
The summer program of Mendel University, with its focus on the social development of central and eastern Europe and its cultural differences with China, discussed the history and current situation of countries in different regions from the perspectives of economy, culture, history and geopolitics. Top lecturers and professors from Mendel University delivered professional lectures and they had face-to-face discussion with the students on the root of the eastern and western cultural differences. These courses inspired students to think about how to maintain culture while dealing with cultural differences in the context of globalization, namely how to practice their international competence in real situations.
The courses and lectures from senior UN officials, professors and scholars focused on the United Nations Sustainable Development Goals (SDGs), in particular, global development issues from multiple perspectives, including inclusive industrial development, corporate social responsibility, social law, green employment and cultural heritage. The students and teachers later had in-depth analyses and discussions on some issues, e.g. how the contemporary youth, in complex global arena, responded to the call of the UN 2030 SDGs in classes, debates and seminars to inspire their own leadership and innovation and shoulder the responsibility of youth leaders.
(2) Visits to International Organizations
Students in the program on the Czech Republic visited four countries in central and eastern Europe, in particular, three government organizations--Hungarian Parliament, Ministry of Foreign Affairs of the Czech Republic, Municipal Government of Brno City and two international organizations—UNESCO and OPEC in Vienna. With these visits and face-to-face exchanges with the officials of international organizations, students gained a deeper understanding of history, economic development, geopolitics of central and eastern Europe.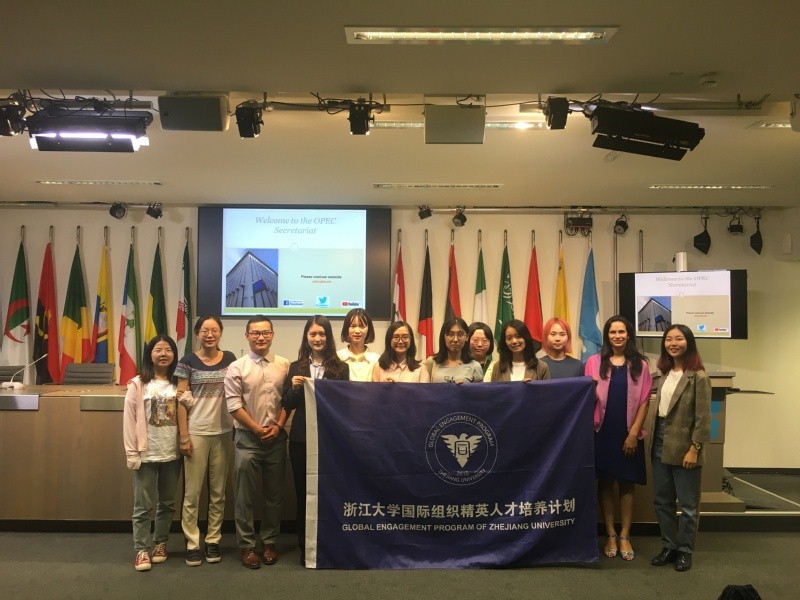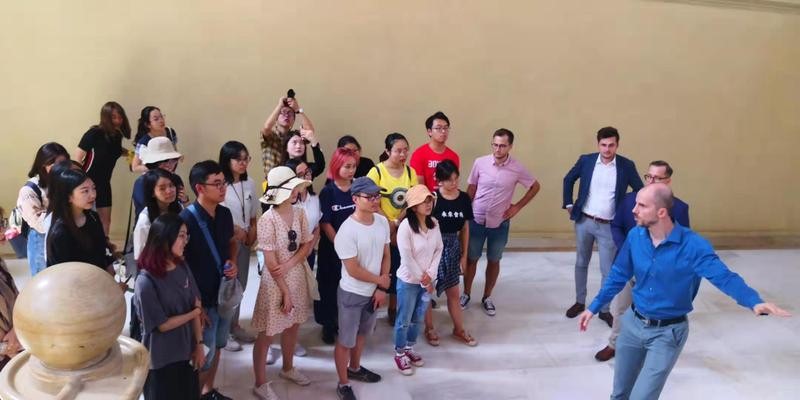 Students of the Program in Turin visited International Labour Organization, United Nations Office at Geneva (UNOG) and World Health Organization (WHO) in Geneva, Switzerland. Dr. Ren Minghui, Assistant Director-General, Sylvie Layous, Human Resources Program Officer, Lisa Tortell, legal specialist and other officials of ILO shared their thoughts with students. In this way, students gained a more vivid understanding of world's economic and trade exchanges, medical and health care and other professional fields and a deeper understanding of the operation of international organizations.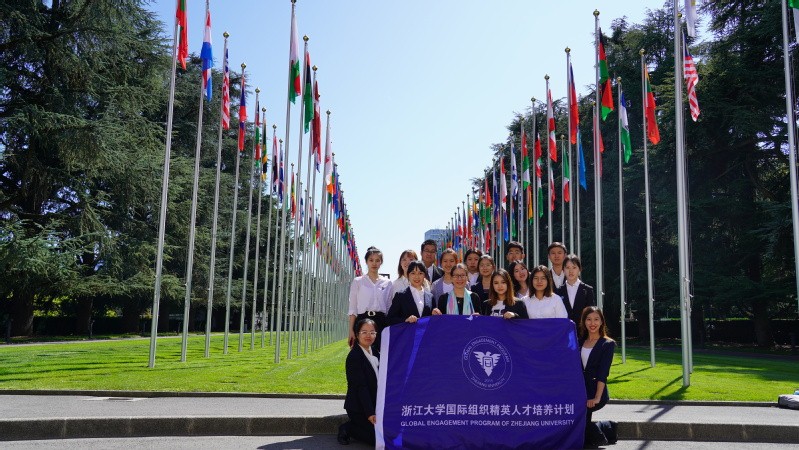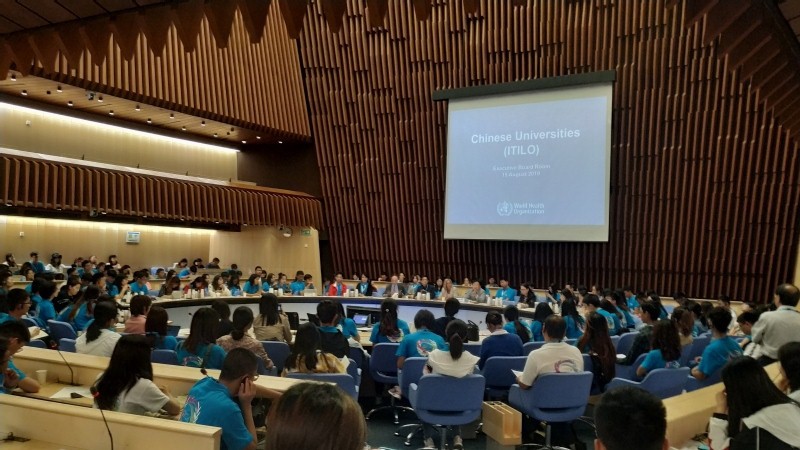 (3)Extracurricular Activities
To celebrate the 70th anniversary of the founding of the People's Republic of China, GYLA team, together with the students from other 17 Chinese universities organized a Flash Mob, the Chinese Cultural Festival, talent shows and other activities to show the quintessence of traditional Chinese culture and the wisdom and confidence of students from ZJU.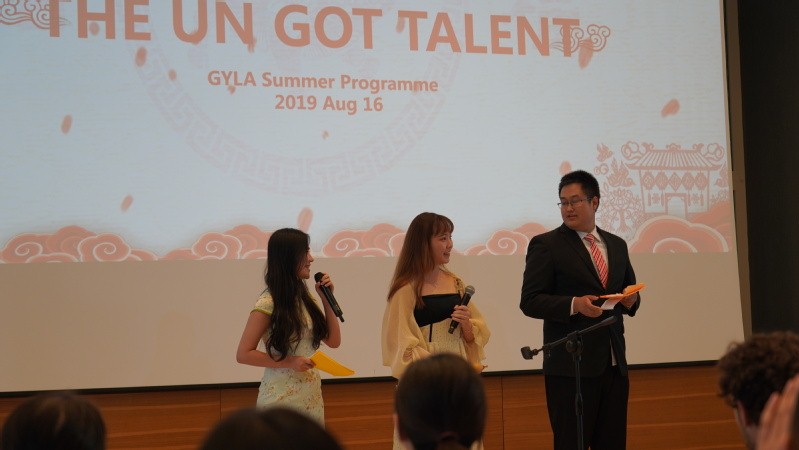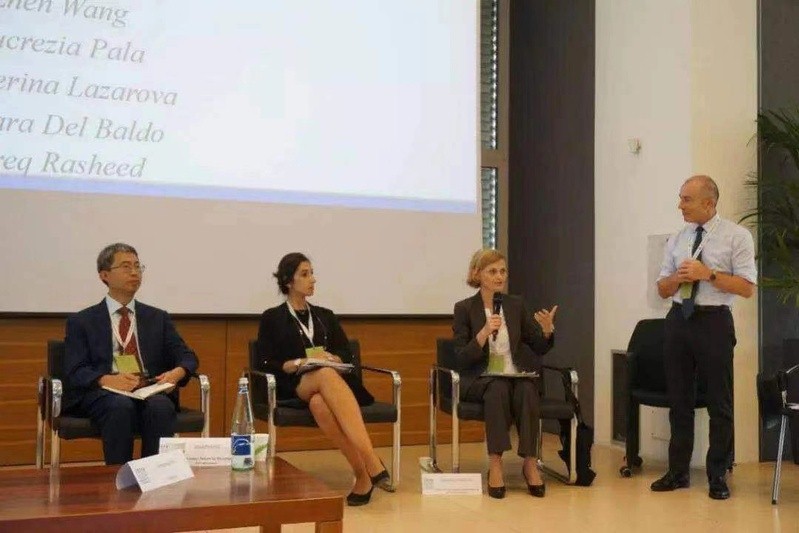 Graduate Students Overseas Study Program of GEP, ZJU, aimed at helping students broaden global vision, provided more channels for students to know more about different cultures and international organizations. It was hoped that through personal experience, students would improve their competency in learning, organization, communication and teamwork so as to lay a solid foundation for possible future work in international organizations and thus expressing Chinese voice in global arena.
Translated by Wang Hailun
Edited by Xu Xueying