From October 25 to 27, 2019, the International Symposium on Studies of Medieval and Early Modern European Literature, hosted by the Centre for Medieval and Renaissance Studies (CMRS) of the School of International Studies(SIS), was held at the Room 201,Building East5, Zijingang Campus. The symposium was approved by the Ministry of Education and attracted more than 50 scholars from the University of Texas at Austin, Northern Illinois University,Kyorin University in Japan, Peking University, Nanjing University, Shanghai Jiao Tong University, Southwest University, Wuhan University, Northeast Normal University, East China Normal University, Shanghai International Studies University, Guangdong University of Foreign Studies, University of International Business and Economics, Northwestern Polytechnical University, Soochow University, Hangzhou Normal University and Zhejiang University (ZJU) etc.. This symposium is the third academic forum organized by the CMRS since its establishment at the end of 2016.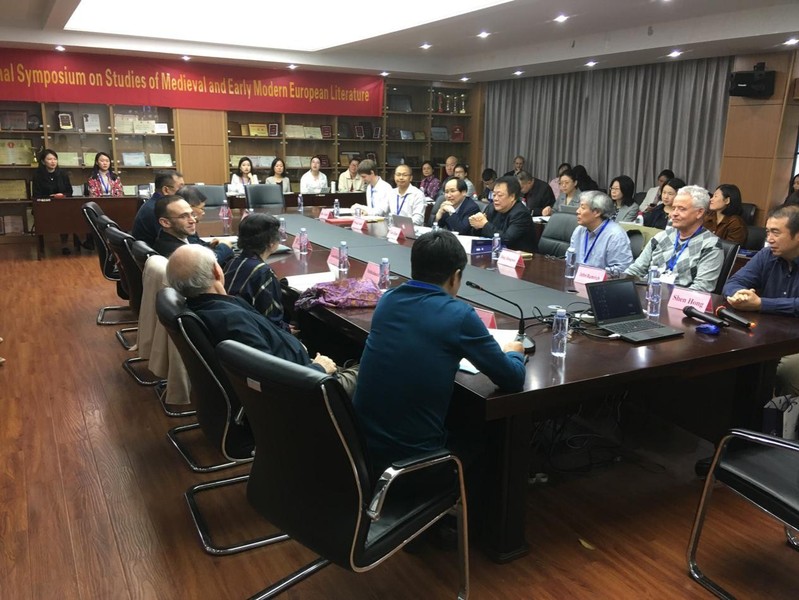 the on-site symposium
The opening ceremony of the forum was presided over by Mr. He Huibin, professor of SIS of Zhejiang University. Prof. Hao Tianhu, director of CMRS, delivered an opening address. Prof. Hao first extended a warm welcome to scholars at home and abroad who made it to the forum, and briefly introduced the achievements of CMRS. Then, he issued the letter of appointment to Prof. John Rumrich, an outstanding scholar from the University of Texas at Austin and one of the international consultants of the CMRS. Finally, he congratulated Shen Hong, professor of SIS of Zhejiang University on his sixty-fifth birthday and honorary retirement, summarizing his achievements as a scholar, an athlete and a teacher as well as praising his contributions to early research on British literature , Chinese and Western cultural exchanges, and talent cultivation. Afterwards, Prof. Rumrich and Prof. Shen gave speeches respectively, showing their sincere thanks to Prof. Hao for the successful opening of this symposium and wishing all scholars a happy and rewarding stay in Hangzhou.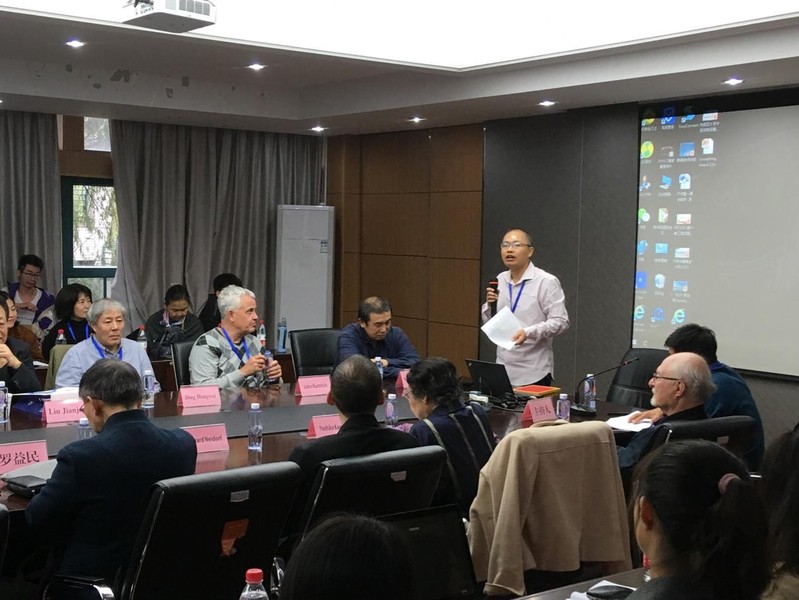 Opening address delivered by Prof. Hao Tianhu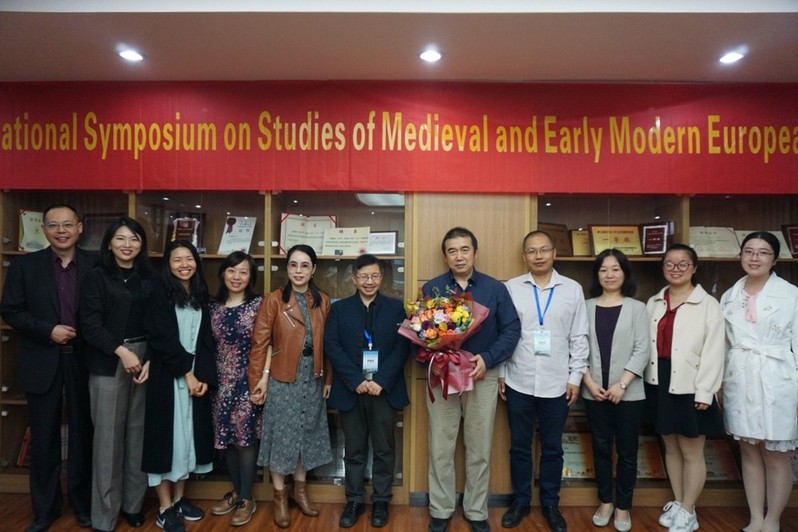 After that, eight scholars from home and abroad made brilliant keynote speeches respectively.Professor Yoshiko Kawachi at Kyorin University summarized the Japaneseachievements on Shakespeare study, talked about the globalization and Japanization of Shakespeare, and discussed Shakespeare's cross-cultural influence on Japan, providing a comprehensive and clear picture of the course of Japanese Shakespeare research. William Baker, professor at the University of Northern Illinois, analysed Shakespeare's ThePhoenix and the Turtle in detail from the aspects of its creation time, style and form, leading us to take a closer look at this neglected treasure. Prof. John Rumrich of the University of Texas at Austin, focusing on two well-known literary critics, William Empson and C.S. Lewis, proposed that although Milton experts set the two critics against each other, especially their attitudes towards Christianity, they actually had a lot in common. And by scrupulouslyexamining their life experiences and works, Prof. Rumrich proved his view and gave us a very simple but enlightening interpretation of the two famous critics.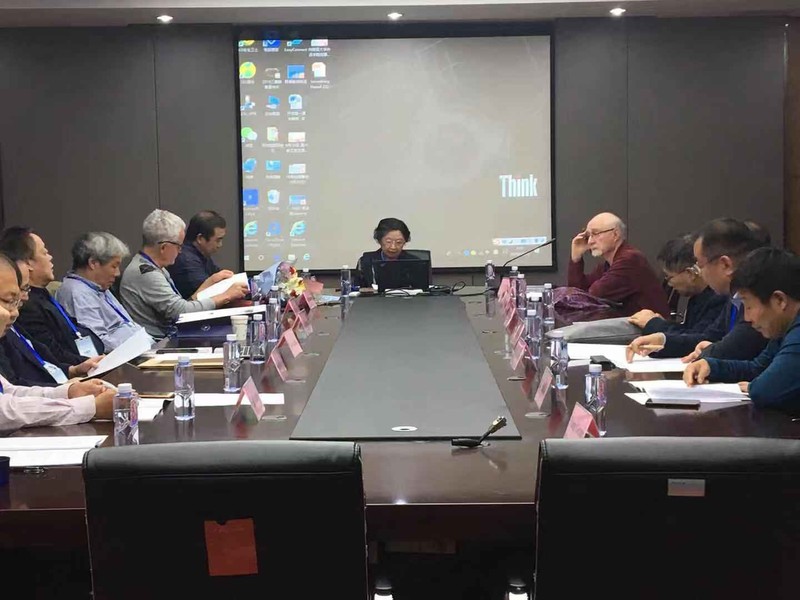 Prof. Kawachi delivered a keynote speech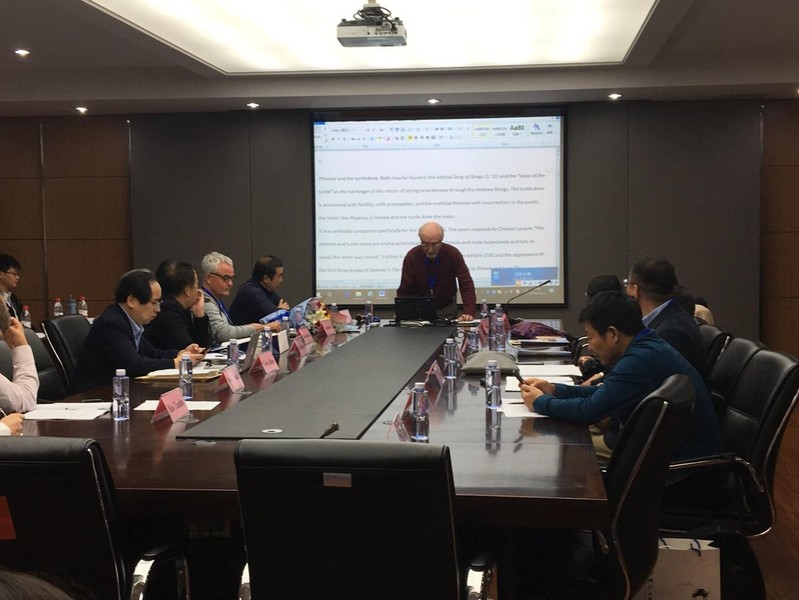 Pro. Baker delivered a keynote speech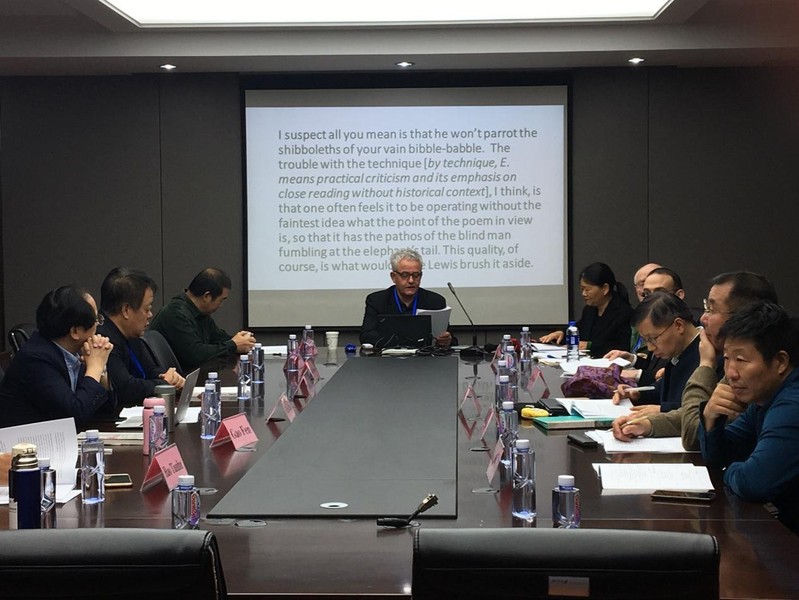 Prof. Rumrich delivered a keynote speech
Ding Hongwei, professor of Peking University, reviewed the The Schoolmaste written by Roger Ascam where the cultural phenomenon of British people traveling to Italy was examined and worried about as it was feared that Italian ideas and customs brought back by the British could eventually disintegrate its own national identity. Based on the anxiety of Roger Ascam, Prof. Ding analyzed how Britain's process of modernization struggled to move forward while contending and interacting with external factors. Leonard Neidorf, professor of Nanjing University, combining digital humanities with the oldest English epic Beowulf, critically interpreted the dos and don'ts of digital humanities, discussed how to preserve the essence of classic literature in digital humanities and emphasized how to combine the two organically. Luo Yimin, professor of Southwest University looked into the Sonnet 18 of Shakespeare, exploring its topological deep metaphor structure and its poetic theme. By comparingthe Christian cosmological system and human body structure with Freud's body-cosmic consciousness theory, Prof. Luo concluded that human beings had the inherent potential of sublimating himself/herself to heaven, angels, and the height of perfection. While Liu Jianjun, professor of Shanghai Jiao Tong University focused on the twelfth-century literature and analyzed the "romance" in the Byzantine novel Drosilla and Charikles. Inspired byDr. Li Zongyao's new book- Occitan Lyric: New Beginning of European Poetry, Prof. Shen centered on the relationship between Occitan lyric and medieval English poetry. As arranged, associate Professor Xu Jia and other seven youth scholars reviewed and discussed the papers of the eight keynote speakers. The collision of ideas gave the sparkle of thought from time to time, however, the scholars seemed to have not given full expression to their views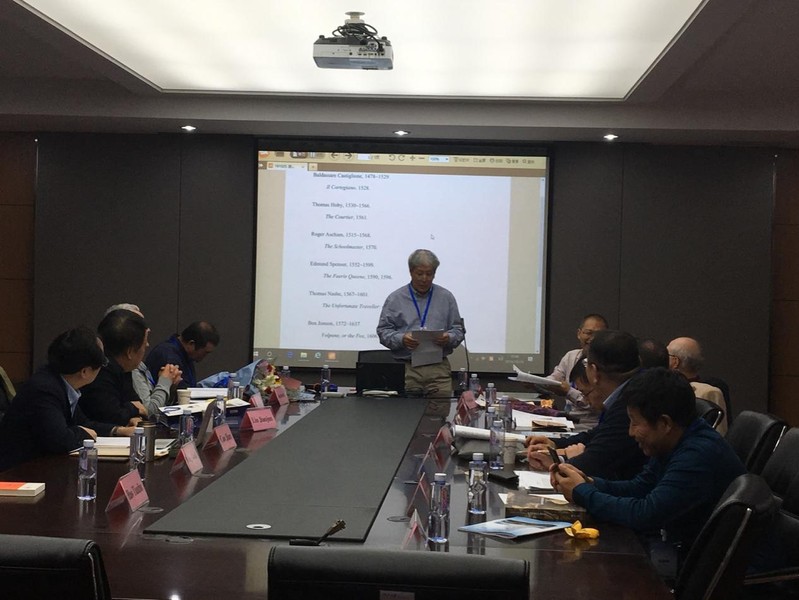 Prof. Ding Hongwei delivered a keynote speech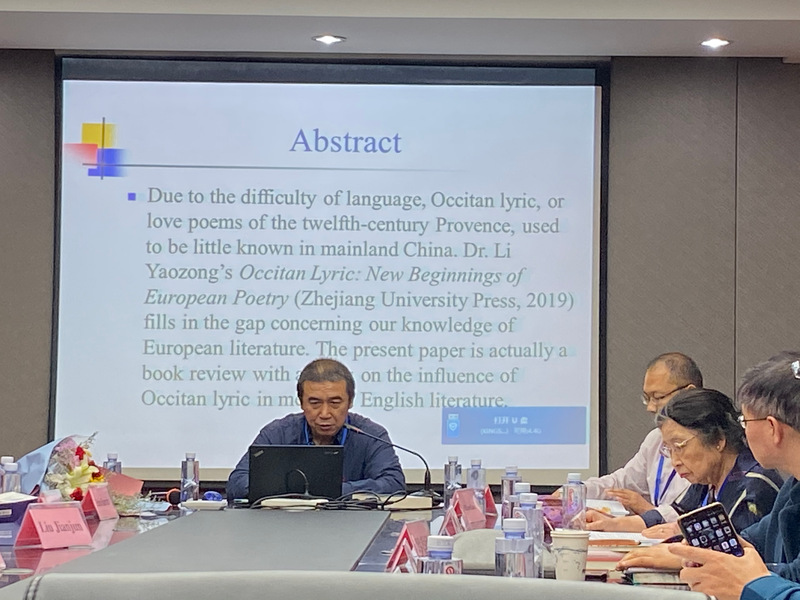 Prof. Shen Hong delivered a keynote speech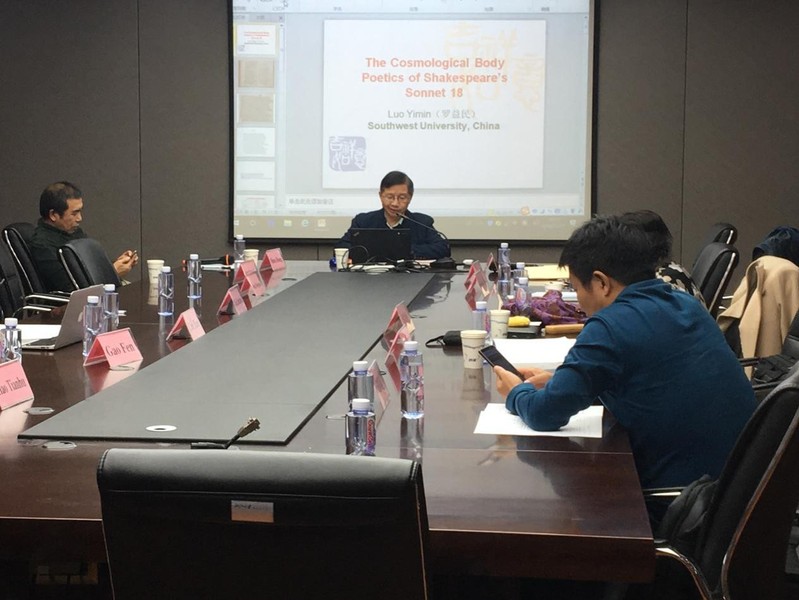 Prof. Luo Yimin delivered a keynote speech
The group discussion was also very wonderful. The forum was divided into nine sub groups, entitled respectively as Shakespeare, Medieval European Literature, Early Modern British Writers and Graduate Forum. More than 30 participants actively shared their academic achievements and exchanged academic ideas in the sub-forums. Distinguished scholars in the field of medieval and early modern European literature, including Prof. Ding Hongwei, Prof.r Liu Jianjun, Prof. Shen Hong, Prof. Luo Yimin, Prof. Shi Xiaojun, Prof. Wang Gaidi, Prof. He Huibin, Prof. Hao Tianhu and so on. were invited as judges to review papers of speakers in advance and give refined comments. The professors highly praised the youth scholars for their original academic views, great academic enthusiasm, and ability of discovering and solving problems and also offered suggestions onthe deficiencies of the graduates' theses.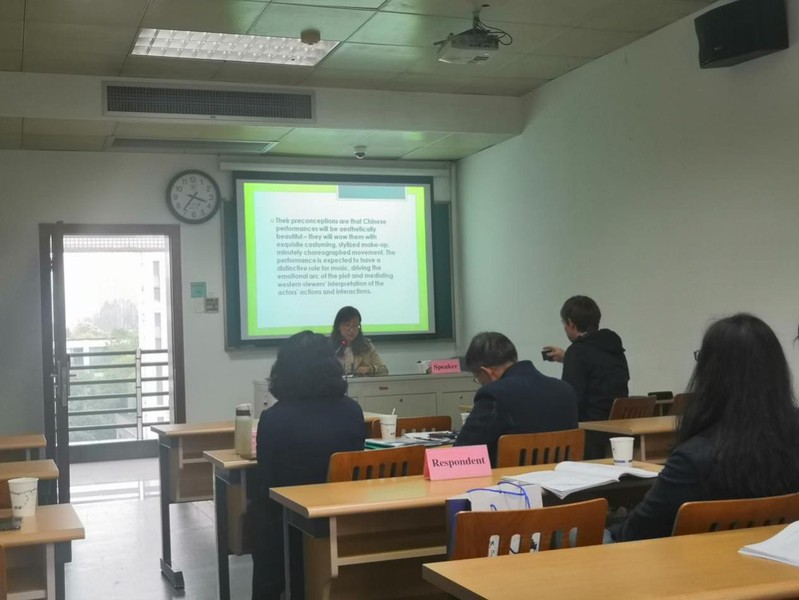 on-site group discussion
At the closing ceremony, the moderators of each group reported their discussions. Distinguished guest Liu Jianjun, professor of School of Foreign Languages, Shanghai Jiao Tong University, made a concluding speech at this meeting. Prof. Liu highly praised the symposium as one of high academic level, and sincerely thanked the sponsor-CMRS of School of International Studies, ZJU. He also thought highly of the youth scholars-the main force of this symposium, and put forward higher expectations for them. Besides, he pointed out that to do literary research, one needed to have a good command of language, and dig one problem persistently with the help of a great deal of supporting materials. In the end, he particularly appreciated the effort of Prof. Hao Tianhu, director of the Center and organizer of this symposium, for providing such a platform for new and old scholars to exchange academic views.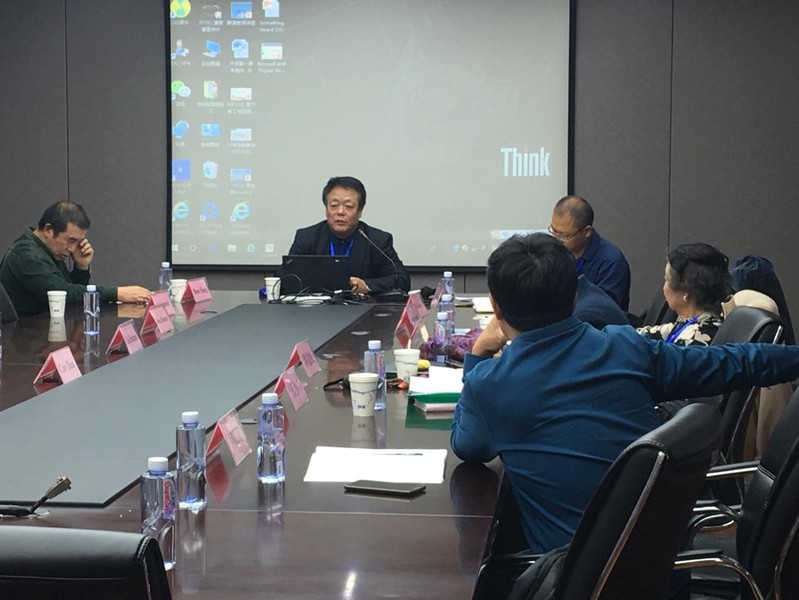 Prof. Liu gave a concluding speech
All the participants have gained a lot and were deeply enlightened. They fully affirmed and highly praised the academic feature of this symposium, especially the opportunity of transnational and cross-age academic exchanges it provided for senior Chinese scholars, young scholars, graduate students and foreign scholars. The scholars said that this symposium was indeed a feast of ideas, and they looked forward to more opportunities for the collision of ideas and academic exchanges in the future to jointly promote the progress of the Medieval and Renaissance research.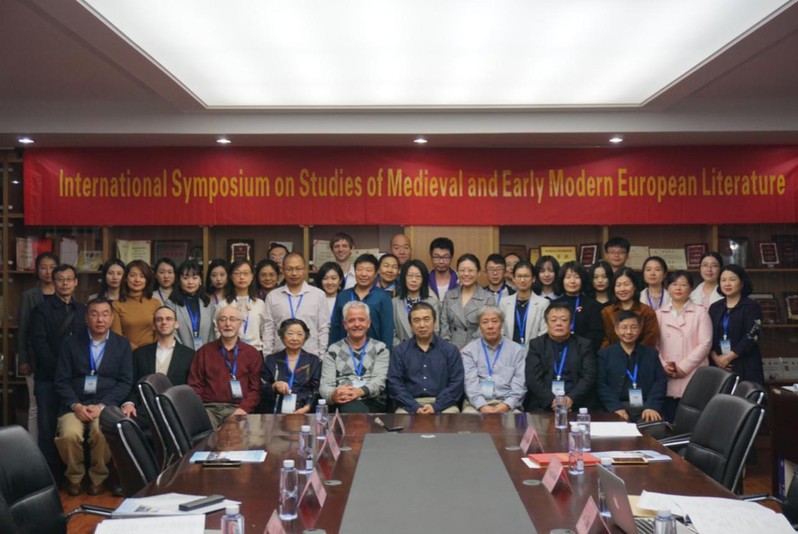 group photo of scholars
Centre for Medieval and Renaissance Studies of School (CMRS)
October 25 to 27, 2019
Translated by Shu Hongyi
Edited by Xu Xueying