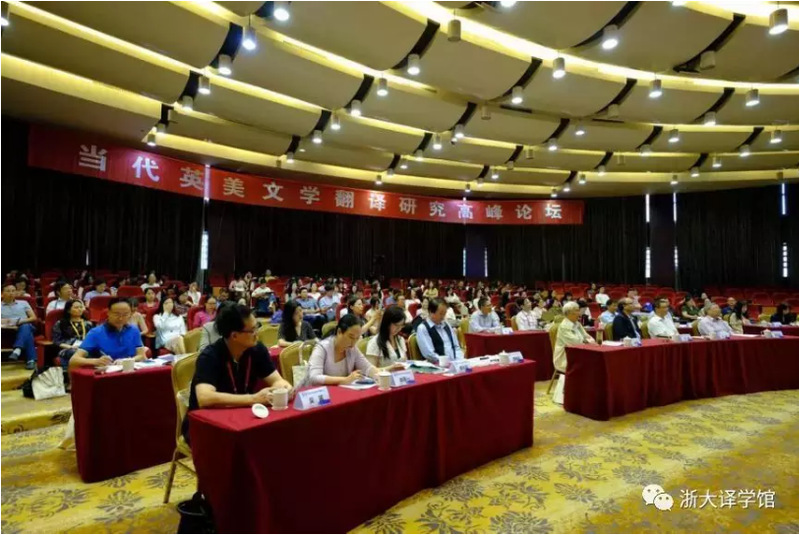 On September 28, 2019, Forum on Translation Studies of Contemporary British and American Literature, hosted by the Chinese Academy of Translation and Translation Studies, Zhejiang University(ZJU), co-organized by the Institute of Translation Studies, and the Translators Association of Zhejiang, was held in Zijingang Campus, ZJU. Invited to this forum were well-known experts and scholars. Many school leaders together with experts and scholars from all over the country attended the opening ceremony of the forum and gathered together to discuss topics related to contemporary British and American literature translation.
Opening Ceremony and Manuscript Donation Ceremony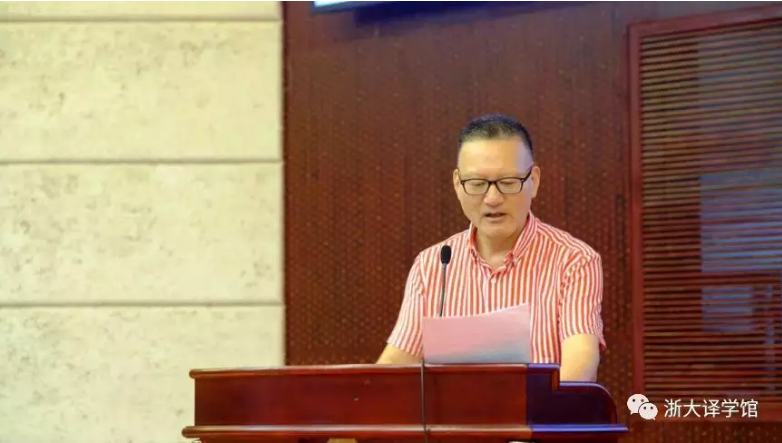 Prof. Guo Guoliang, Director to Institute of Translation Studies, ZJU hosted the opening ceremony and introduced the guests. Amid warm applause, Prof. Ye Min, Deputy Secretary of the CPC Committee of ZJU, Mr. Bi Feiyu, a celebrated writer, Mr. Ai Wei, Chairman of the Zhejiang Writers Association, Prof. Fan Jieping, President of Translators Association of Zhejiang, Mr. Xu Jun, Senior Professor in Humanities of ZJU, Curator of Chinese Academy of Translation and Translation Studies, ZJU delivered speeches in turn for the opening ceremony.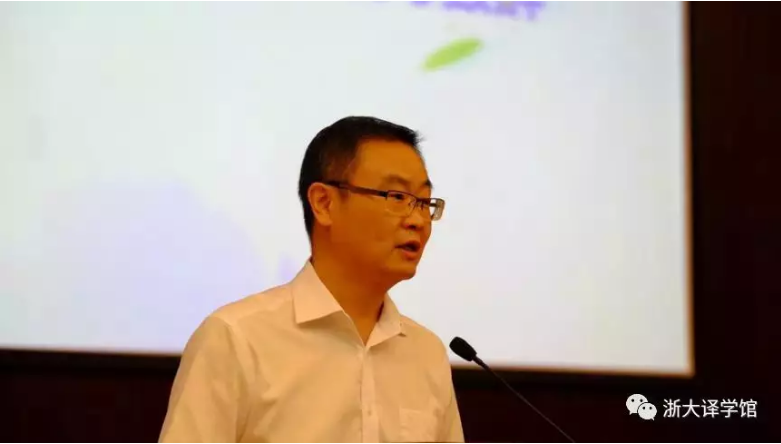 Prof. Ye said that This Forum coincides with the 70th anniversary of the founding of the People's Republic of China, which can be viewed as a positive response to General Secretary Xi's significant exposition on exchanges and mutual learning among civilizations, joint building of a community with shared future for mankind and also a gift from literature translators for our great motherland. He also mentioned his own experience of reading A Dream of Red Mansions when he was in college. At that time, he was surprised to find that this classic had its English version translated by Yang Xianyi and his wife Gladys B.Tayler and showed admiration to their great work. He also pointed out that "Literature that is national is also international. In the literature world, we can transcend time and space to talk with the great masters; we can have an insight into ourselves and show care for others; we can appreciate truth, virtue, beauty, and abandon falsehood, evil and ugliness."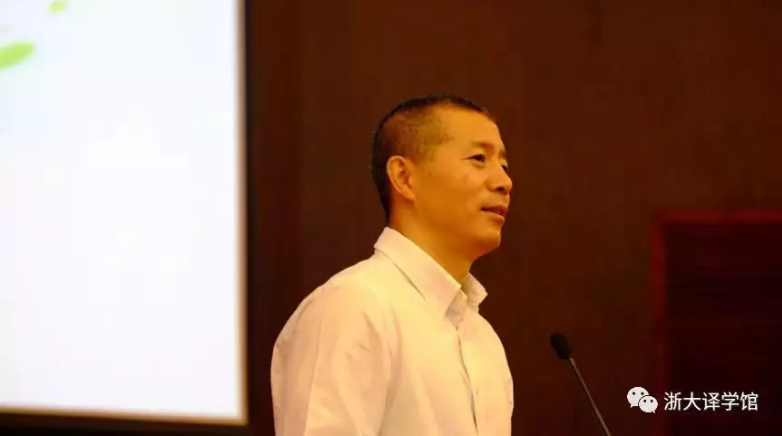 Recalling his own growth experience, Mr. Bi Feiyu spoke highly of the role of translation has played in opening up a new world for him and guiding him to the future. By using the example of Workers of the world, unite! in the Manifesto of the Communist Party, he revealed the power of translation in cultural and ideological building and his belief that translators play an important role in communicating and spreading civilizations and literature across the world.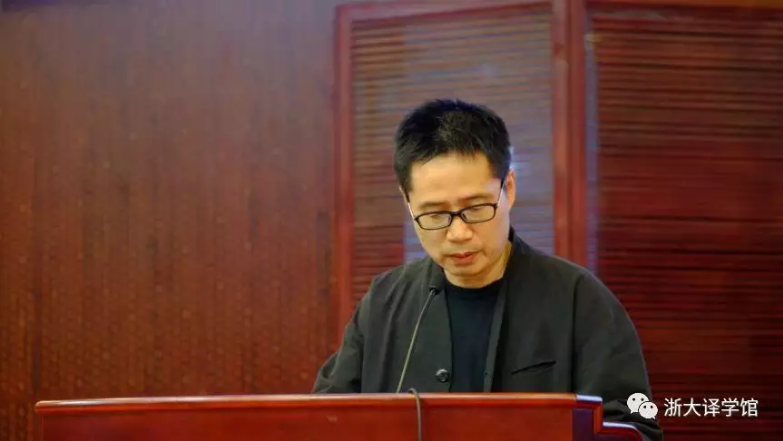 From the perspective of history, Mr. Ai Wei pointed out that modern Chinese novels had an inseparable relationship with translation and introduction of western culture in China, and that translators played an important role in promoting China's path to modernity. At the same time, Mr. Ai Wei also highly praised the open spirit of the contemporary Chinese people and was confident that China would keep absorbing outstanding foreign civilization and maintain the prosperity of its own civilization.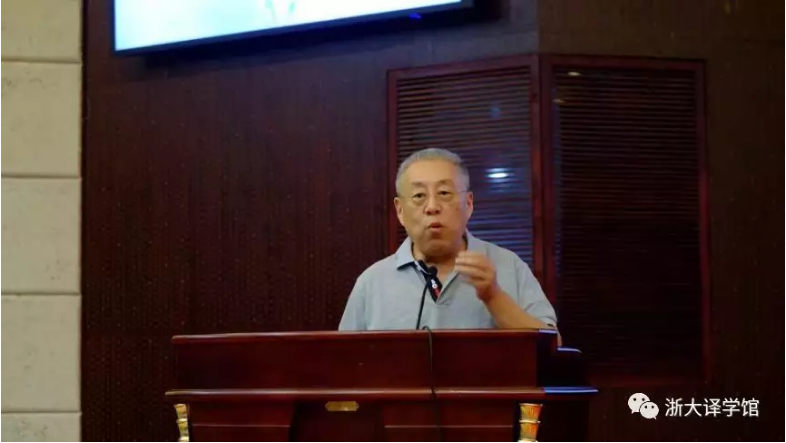 Prof. Fan mentioned the scene of being moved to tears when reading The Gadfly many years ago. He believed that it was a lot of reading that finally put him on the path of literary research. Therefore, full of gratitude, he paid a tribute to translators who have devoted themselves to spreading Chinese and Western literature. Prof. Fan also talked about integrity and innovation put forward by President Xi, hoping that translators would hold fast to their original pursuit and make more research on literary translation.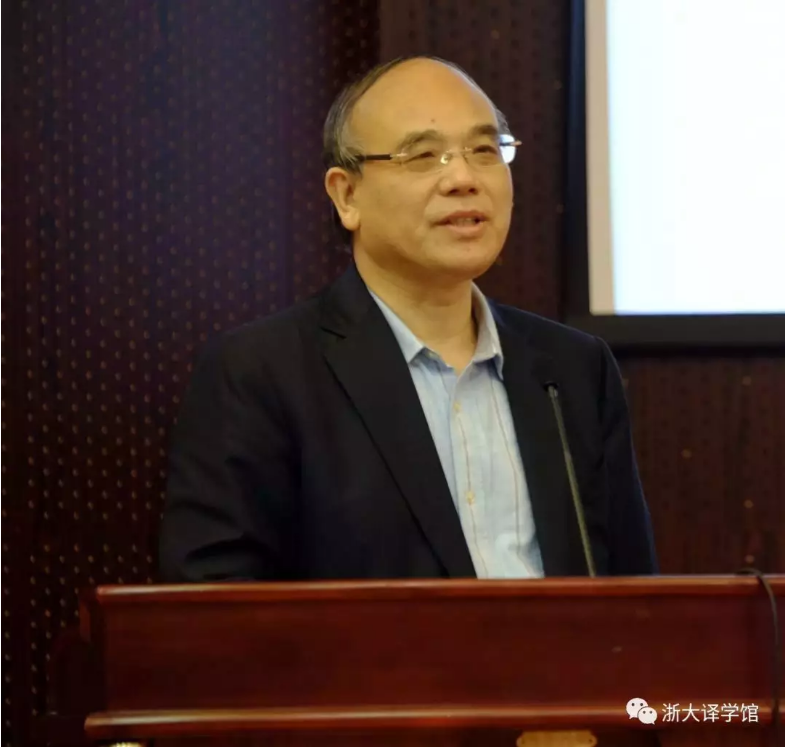 Prof. Xu emphasized the importance of cultural inheritance and believed that one of our utmost tasks is to pass down Chinese culture, so we especially value the cultural and ethical wealth left by history. Chinese translators have made important contributions to promoting our excellent culture and cultural exchanges with foreign countries. We must inherit and carry forward their great cause and to this end, he proposed to pay special attention to the collection, collation and research of translators' manuscripts.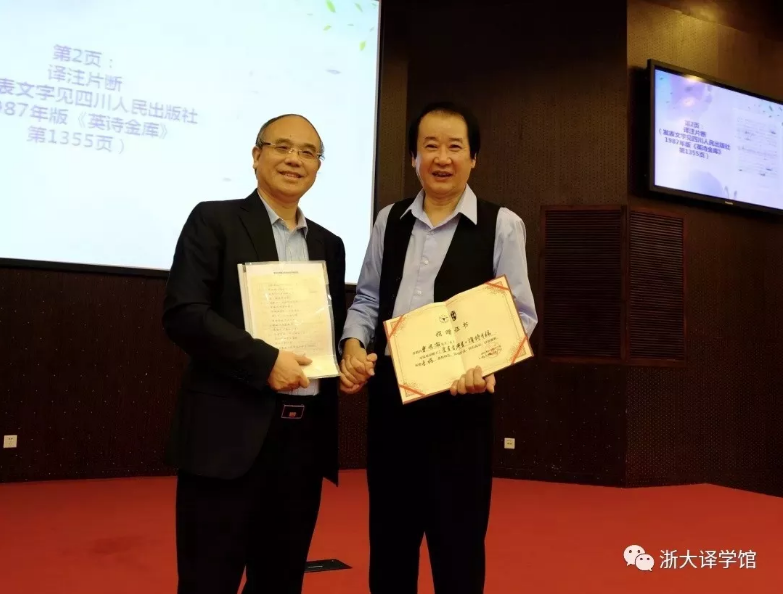 After the speeches by experts, Prof. Xu presided over the donation ceremony of manuscripts. Cao Minglun, a well-known translator and professor of Sichuan University donated precious manuscripts to Chinese Academy of Translation and Translation Studies, ZJU, including one set of original (86 pages) translation manuscripts of "Astrophel and Stella by Mr.Cao Minglun and two pages of original translation manuscripts of poems by Mr. Wang Zuolian. Prof. Xu extended his appreciation to Prof. Cao for his precious gift.
Keynote Speeches
After the opening ceremony, six experts -Huang Yuanshen, Cao Minglun, Bi Bingbin, Wu Di, Jiang Qiuxia and Xu Shiyan made keynote speeches respectively.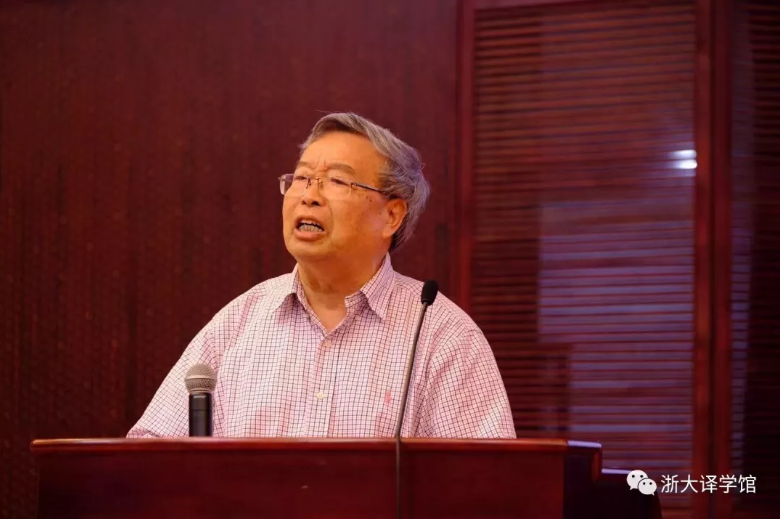 Mr. Huang made a keynote speech entitled The Weakness and Self-Salvation of Translators. First of all, he talked about the weakness of today's translators-poor mother tongue, embodied in the homogeneity of language:Translators share a bland style without any features. He believed that the proficiency of the mother tongue determines the quality of translation, particularly translation from other language to Chinese. Mother tongue is the foundation of all disciplines, and for translation major, it is even more so. The level of mother tongue even determines how much leeway there is in translation. There is a great correlation between the mother tongue and foreign languages, and it is difficult to reach a certain height in foreign language learning if one is not good at his mother tongue. He quoted Xu Yanmou's words, With weak Chinese foundation, one will not walk far in learning the foreign language. With high level of mother tongue, it is also easy to learn the foreign language, because the process of language learning is the same. At present, the loss caused by inadequate command of mother tongue when learning the foreign language can not be underestimated. Many students, exhausting every possible means, still make little substantial improvement in their foreign language, which is closely related to their poor mother tongue. Finally, Mr. Huang proposed that the best way to improve proficiency in mother tongue is to cultivate one's language sense. Translators with a good sense of language often have the ability to choose the exact words, express sentences smoothly, and make paragraphs coherent naturally by using many original and vivid examples without any marks of translation. Otherwise, all kinds of defects can be found in expression. In short, mother tongue is the soul of translators and the key to the success of translation, hence worthwhile our lifetime attention.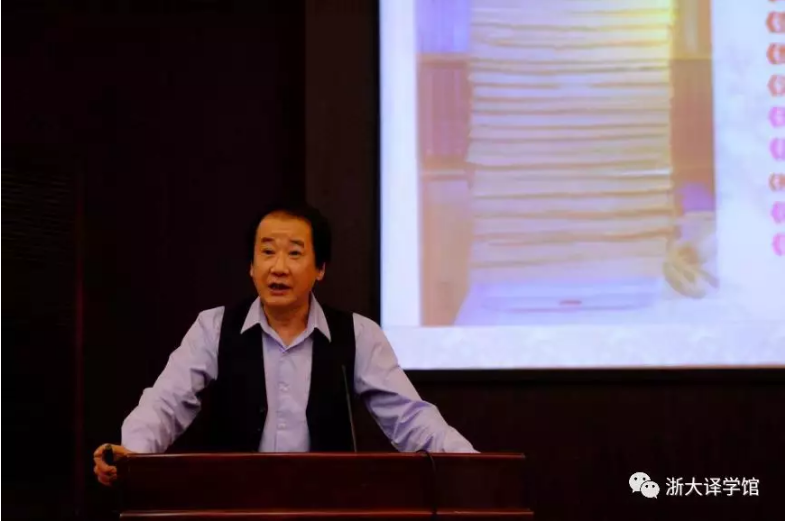 Prof. Cao delivered a keynote speech entitled Robert Frost and translation studies on his poetry in China (1924-2019). Starting with remaining true to our original aspiration and keeping our mission firmly in mind, he mentioned Mr. Xu Yuanchong's"original aspiration"- to connect the past and present China and the World with poems (to spread 5,000-year Chinese civilization), and to disseminate thousands of Chinese poems to America and Europe; and his own "original aspiration"- dedicate himself to providing works beneficial to Chinese readers and referable to Chinese authors. Prof. Cao then introduced the course of translation studies on Frost and his poems in China, which could be roughly divided into three main stages: 1) From 1924 to 1949 (a total of 8 poems with 327 lines); 2) From 1980 to 1992 (a total of 183 poems with 4,167 lines); 3) From the end of the last century to 2002 (all 437 poems, totaling 16,033 lines). He also analyzed the characteristics of Frost's poems and its Chinese version: Early translators knew the characteristics of Frost's poems perfectly well; though with only a small number of poems translated, the quality of them were all very high. Just as Shi Zhecun wrote in his diary on October 19, 1962, Thirty years ago when translating American poems, I considered Frost to be the best, and my connoisseurship stand the test of time (Shi Zhecun's Diary, 2002: 6). Most translators in the new era have inherited the tradition from their predecessors and the translated version can be accepted and appreciated by Chinese readers, with some even selected into Chinese textbooks. Finally, Prof. Cao shared some suggestions on poem translation with the representatives: 1)familiarize with the sound of sense/meaning pursued by Frost; 2)Learn from academic translators in the Republic of China period, namely whichever poems you choose to translate, research them carefully ahead. In other words, don't translate poems you don't understand. 3) Well handle the relationship between creation and translation.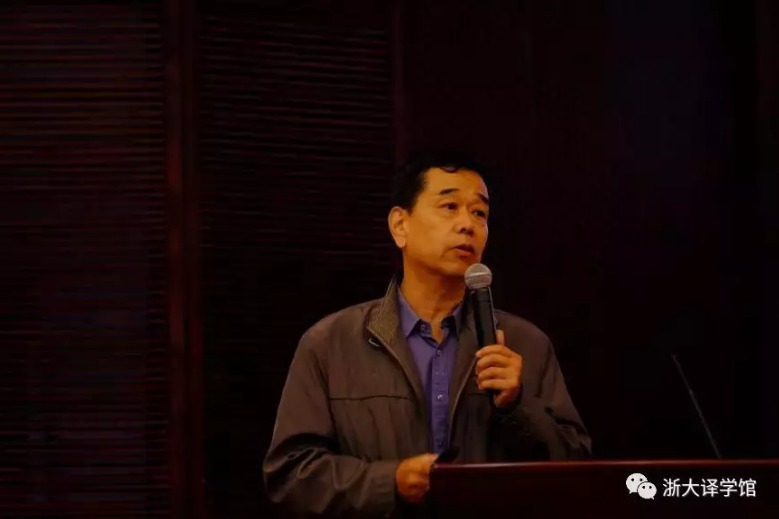 Mr. Bi made a keynote speech entitled Difficulty in Back Translation of Lao She: Domestication Based on Contextualized Imitation and One Servant and Three Masters. Starting with the translation of The Yellow Storm, Mr. Bi first talked about his experience of restoring the original Beijing style of Lao She with the help of the English version through knowing, imitating and acting Lao She. However, he also pointed out that the real back translation is difficult to achieve- Back translation" itself is basically a false proposition; it, at most, is a high imitation of returning to the soul of the original work with the help of English version on the basis of Qian Zhongshu's "forgetting the words after obtaining the significance"; and even more like "one servant and three masters" extended from Yang Jiang's one servant and two masters(translators should serve the author and the reader at the same time). The reconstruction of contexts in the imagination of Lao She's original work is imitated domestication combining the classical principle of faithfulness, expressiveness and elegance"and contextualization. Mr.Bi then briefly introduced several changes on the versions of The Yellow Storm and described this process as twists and turns. Finally, he talked about the basic principle of translation, contextualization. During his back translation of The Yellow Storm, he extended Ms.Yang Jiang's one servant and two masters to "one servant and three masters"-that is translators should make his or her narrative style more close to that of Mr. Lao She, and make characters and the language follow the style of the old Beijing dialect, which first requires correct understanding of the English version and correctly convey its meaning. Then based on correct understanding and accurate translation, within the framework of the English version, the translator should act Lao She , tell the story based on his/her understanding of Lao She, and convey the dialogues among different people using the familiar Beijing dialect.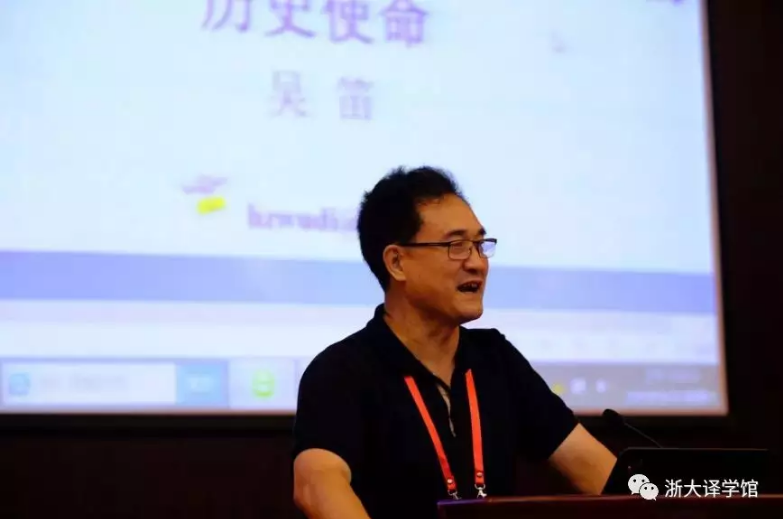 Prof. Wu Di made a keynote speech entitled the Historical Mission of Literary Translation in the Generation and Dissemination of Classics. He particularly emphasized the mission of translation and believed that literary translation is not only a conversion of language and characters, but an activity existing in another form of life. In addition, he also distinguished the differences between Literary Translation and Translated Literature. At last, Prof. Wu said that translation is not only an art but also a science, with the purpose of inheriting excellent culture and serving the development of national culture. As an art, translators play the role of writers because he/she needs to be loyal to the original form and language to express the original content and information. Translation is not a mechanical word by word language conversion, but an activity requiring talent. Translators are supposed to reproduce the essence and characters of the original work in another language according to the original connotation through his/her own creativity. Literary translation is the ultimate embodiment of the art of translation and the artistic crystallization of the translators' thoughts, literary cultivation and aesthetic pursuit. On the other hand, as a science, translators have their distinctiveness: unlike a poet, he/she can't let the wings of imagination fly freely at his/her will, that is, his imagination is a constrained one and closely tied to that of the author; the triggers he accepted must correspond to that inspiring the author and only in this way, can he hatch in mind an image in conformity with the original one. Therefore, the importance of translation cannot be overemphasized.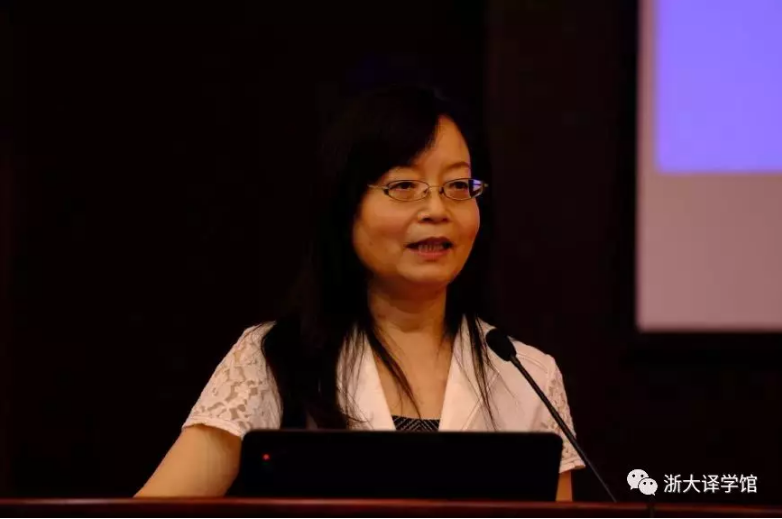 Prof. Jiang delivered a keynote speech entitled The Construction of Intertextuality in Chinese and Western Translation Studies -- Rethinking the Methodology of Literary Translation Studies. At first, Prof. Jiang raised a question, where is the road of translation studies? Then she introduced the principle of intertextuality in Chinese and Western translation studies, namely harmony based on uniformity and coexistence supplemented by difference. She also introduced three aspects of intertextuality in literary translation studies from three aspects, namely, intertextuality of virtual and real, of perceptual and rational, and of tree and forest.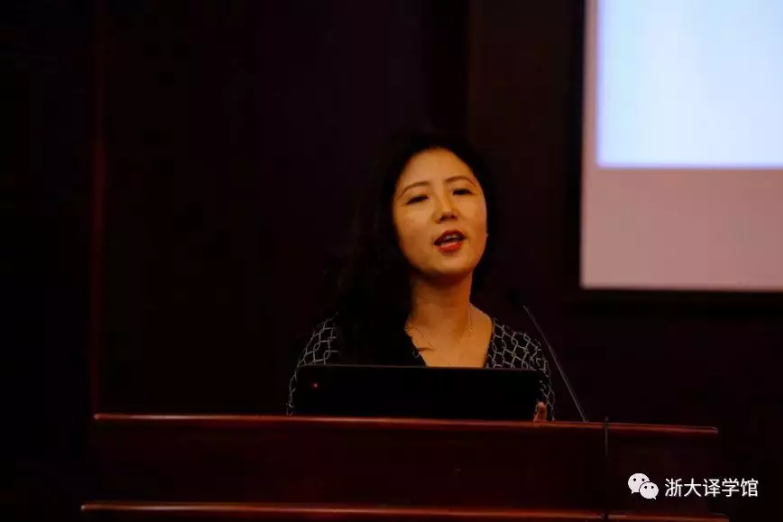 Prof. Xu delivered a keynote speech entitled Process and Value: a Study on the Self-Preservation of Literary Translation Archives. Based on her own archive arrangement experience, she introduced the concept of self-documentation and its value to the audience in detail. She believed that self-documentation should include electronic versions of translator-author correspondence, handwritten revisions, lectures by translators and authors, and videos of promotional events. Based on the archives recording the title translation of Mrs. Yang Jiang's book -Six Chapters From My Life in the Cadre School, She pointed out that the value of self-documentation lies in the improvement of translation standards: increasing the dimension of the process. By showing Mr. Bi Feiyu's reply to Mr.Howard Goldblatt's understanding of the details in Mr Bi's work Massage, Prof. Xu pointed out that the value of self - documentation- the expansion of text criticism: demonstrating communication details, and put forward the idea of a designed translation version for critics. Finally, she noted that a third value of self-documentation- artificial intelligence breakthroughs: intervening in deep learning.
The six keynote speeches delivered by experts in the morning were rich in content, profound in views and brilliant in expression, benefiting teachers and students greatly.
Academic Forum
In the afternoon, the academic forum on "Literary Translation-Publishing Industry Has Something to Say" was hosted by Wang Lixing, former editor-in-chief of Yilin magazine and translator of British and American literature. Dialogues were held among him and Ms. Li Yuyao, editor-in-chief of Foreign Literature and Art magazine and translator of British and American literature, Ms. Liu Mingye, deputy editor-in-chief of Zhejiang Literature and Art Publishing House and Ms. Lei Yun, editor-in-chief of Foreign Literature Academy of Imaginist.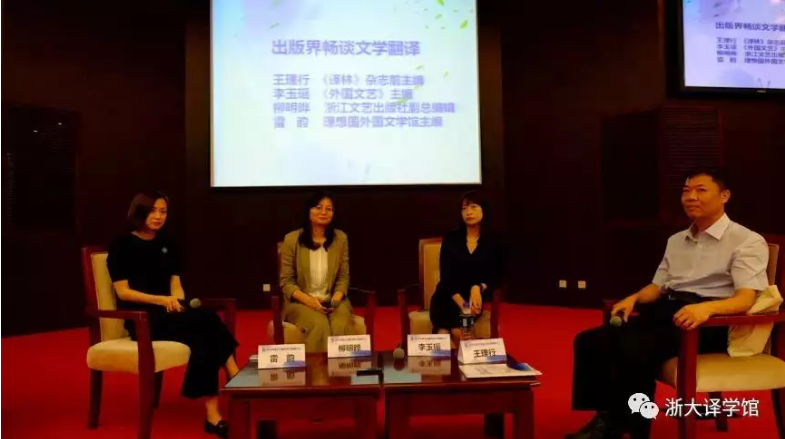 First, against the background of the 70th anniversary of the founding of the PRC, Wang Lixing reviewed the translation and publishing of foreign literature in the new China by dividing 70 years into the early 30 years and the later 40 years. Wang Lixing described the tasks and functions of literary translation publication in the light of the development of Yilin magazine. He believed that the translation of foreign literature should present various literary schools, introduce important literary trends of thought so as to achieve mutual inspiration in collisions. Then, Mr.Wang raised a question worthy of the publishing industry's special attention to the three representatives: what kind of foreign literary works should be introduced in the new era? Ms. Li Yuyao said that Foreign Literature and Art has always uphold the concept of recommending to readers the freshest and most distinctive contemporary writers who receive little attention. By comparing World Literature with Foreign Literature and Art, she pointed out that World Literature mostly translated classics, while Foreign Literature and Art emphasized taking the lead in introducing some unknown foreign writers; however, to attract more attention and deliver works to more readers, it is necessary to obtain help from the academia and build a cooperation bridge. Ms. Liu Mingye briefly introduced Zhejiang Literature and Art Publishing House, which has two product lines-one is famous classic novels mainly from Jiangsu and Zhejiang and the other is translation of foreign literature. She believed that foreign literature served as a window and a road to the outside world. Amid fierce copyright competitions nowadays, robbing resources occurred from time to time. To discover new high-quality works in the market required more professional analysis and judgment. In addition, Ms. Liu also briefed on the future direction of the publishing house, which was to maintain recommendations for a small number of high-end foreign literary works, and to explore the market by experience accumulation, forward-looking judgment and real-market evaluation.
In the second half of the forum, four representatives from the publishing industry discussed the spread and marketing of foreign literature. Ms. Li believed that publishers should abide by the bottom line of marketing and pay attention to the multiple values of books, instead of simply treating them as commodities. Ms. Liu emphasized the principle of "Content First"; a brand was not built in a day; and we could learn marketing methods from private publishing houses in appropriate ways. Ms. Lei held that private and state-owned publishing agencies shouldn't be judged in rigid uniformity and that they could communicate with each other and prosper together. She also pointed out that the translation was as important as the original work, which required repeated polish and proofreading, and believed that readers had their discrimination ability.
What followed next were the sub forums. The first forum was hosted by Qin Jianghua, associate professor of Huazhong Agricultural University and Wang Yingchong, associate professor of Beijing Foreign Studies University. Wang reported on the exchange of Sub Forum one and highlighted that papers at the meeting featured "new content, new perspectives, and new methods". "New content" was reflected in the uniqueness of the research object. For example, Yang Zhentong proposed the idea of translation by adhering to the original text from his years of practice and teaching of literary translation; Yang Long made a detailed analysis of the role of the Research Center for Contemporary Chinese Literature at the University of Leeds in promoting the global dissemination of contemporary Chinese literature. New perspectives were reflected in the novelty of research perspectives. For example, Shao Lu conducted a descriptive research of the foreign translation, dissemination and acceptance of Yu Hua's novels from the perspective of translation stylistics; Yao Hongxi paid attention to the marginal status of female translators in the history of Chinese translation. New methods were reflected in the innovative research methods. For example, Li Ruobing applied visual analysis tools to conduct periodic review and sorting-out of translation studies on Lin Yutang in the past forty years; Yu Jinquan used the field and capital theory to reveal the causing factors of publishing the Chinese translation of Dylan Thomas's poems by People's Publishing House.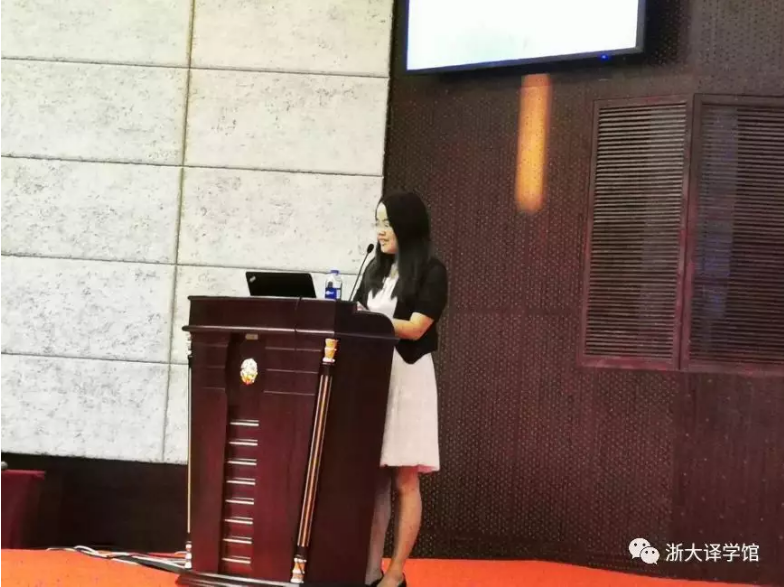 Sub Forum two was hosted by Chen Tingting, associate professor of Anhui University and Zhang Huiyu, associate Professor of SIS, Zhejiang University. When reporting on the sub-forum, Zhang Huiyu extracted three words from all the shared papers, namely travel, dream and guard. The word travel indicated that in this sub-forum, many young scholars mentioned the global travel of literature and translation. Their interpretations of world literary translations seemed to take us on a wonderful round-the-world trip. For example, Jiao Jiao analyzed and compared the two texts of New Things and The Remains of the Day from three levels of literary trade, global English and world literature. "Dream" suggested that the scholars' understanding of translated texts touched upon the ideals of the author and readers, and also incorporated their own dreams. For example, For example, Xu Yanli commented on Yu Guangzhong's translation of An Ideal Husband from the perspective of translator behavior criticism;Zhang Gu conducted a descriptive research on Zhu Shenghao's translation manuscript of Shakespeare's play A Midsummer Night's Dream; Li Congli analyzed the acceptance of The Great Gatsby in China from the translator's perspective, and talked about Gatsby's American dream; Zhang Huiyu and Xu Kai's comments on the construction of the immigrant identity in The Funeral of Joy also reflected the dream of joy. The last word was guard. Today's young scholars were the guardians of the journey and dreams of translation and literature, of the present, past and future of Chinese literature and Chinese translation.
Closing Ceremony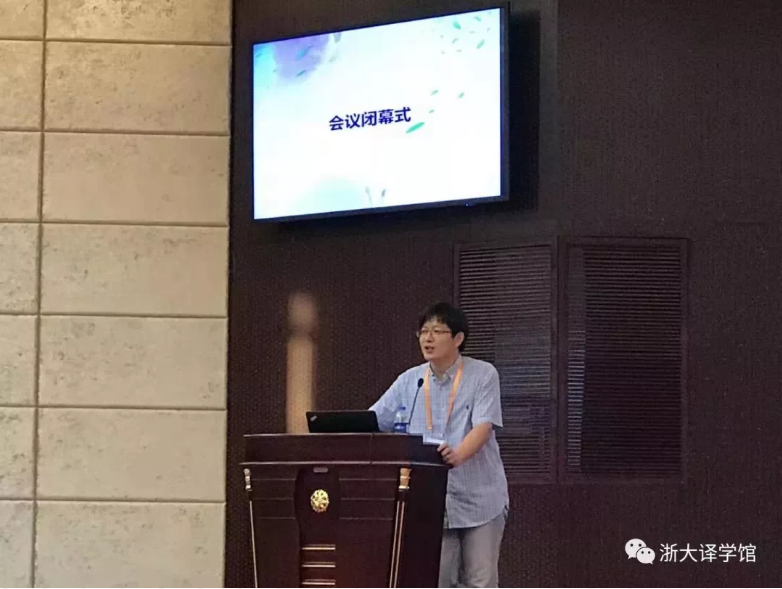 After discussions at the sub forums, the Forum on Translation Studies of Contemporary British and American Literature ushered in the closing ceremony hosted by Feng Quangong, associate professor of School of International Studies, ZJU. Prof. Feng illustrated three points of significance in participating in academic conferences: 1) finding suitable research topics from conference speeches; 2) shaping and updating our translation perspective; 3) meeting old friends and knowing new friends to expand channels of academic communication.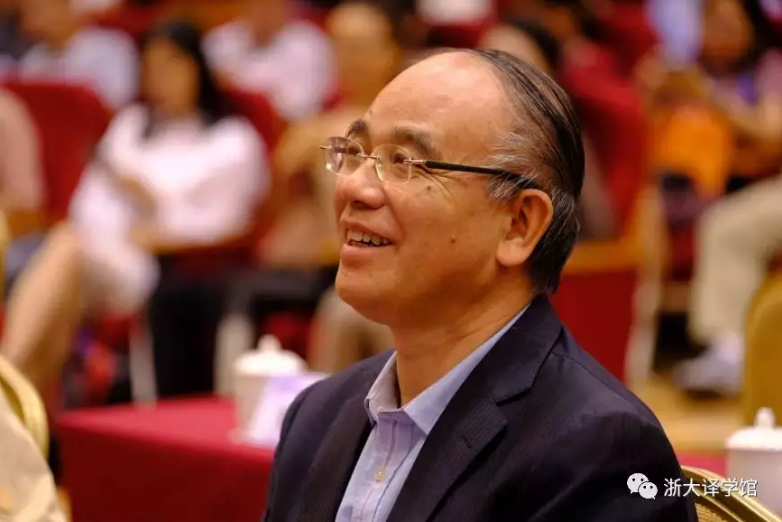 Finally, Prof. Xu Jun delivered a concluding speech. First, he stated that the Forum was clear in theme, diverse in form with distinctive features and concerted efforts. He believed that "The literary translation cause not only depends on translators, publishers and researchers, but also on many other links. We take literary translation as a cause, which develops historically and dynamically, and we study and think it as the process of new literary life." He pointed out the importance of responsibility from the perspective of translation—"The topic of discussion is about literary translation. What is the nature and value of literary translation? What does it bring to us individuals, countries, nations, and human beings? And what are the focus and thinking of our research? Prof. Xu also said that Young people of our generation need to have a sense of history and mission, and shoulder their responsibilities. He called on young people not to act in ways negatively affected by external forces and to move on whatever they take up. Prof. Xu believed that translation is the transformation of languages in the form, but it is essentially the inheritance, communication and innovation of culture. Translation represents openness and innovation. Culture must be inherited and constructed and by being open to others and learning from each other, it will be constantly enriched and improved. This is the meaning of mutual learning among civilizations." He also encouraged everyone to reflect on the role of their work in cultural construction from time to time, emphasizing "adhering to basic ethics in doing everything".
The Forum on Translation Studies of Contemporary British and American Literature successfully rounded off with warm applause.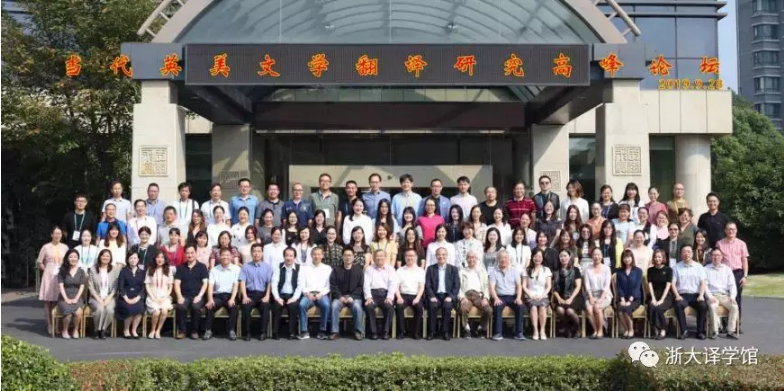 (This article is from the public account of Chinese Academy of Translation and Translation Studies )
September 28, 2019
Co-translated by Zheng Wenhui and Ni Xueqi
Edited by Xu Xueying