On the after of November 15th, 2019 High-level Academic Forum of the School of International Studies (the SIS) was held at Qizhen Lecture Hall of Qizhen Hotel on Zijingang Campus, Zhejiang University. Funded by the Fundamental Research Funds for the Universities Affiliated to Central Government, the forum offered the opportunity for an in-depth academic communication to experts of foreign languages and students and teachers from the SIS.The experts included Prof. Jacob Mey from University of Southern Denmark, Prof. Zha Mingjian, Vice President of Shanghai International Studies University (SISU), and Prof. David Machin and Prof. Dong Yanping, leading talents of the humanities and social sciences of ZJU. The forum was presided over by Prof. Cheng Le, Vice Dean of the SIS. Cheng Gong, Dean of the SIS, introduced the steady progress of the SIS, and expressed thanks to the industrious students and teachers. He highlighted that guided by ZJU motto "Seeking Truth" and the "Double First-Class" Initiative, we should maintain at a top level by making concerted efforts at enhancing research and academic studies in the subjects of foreign languages.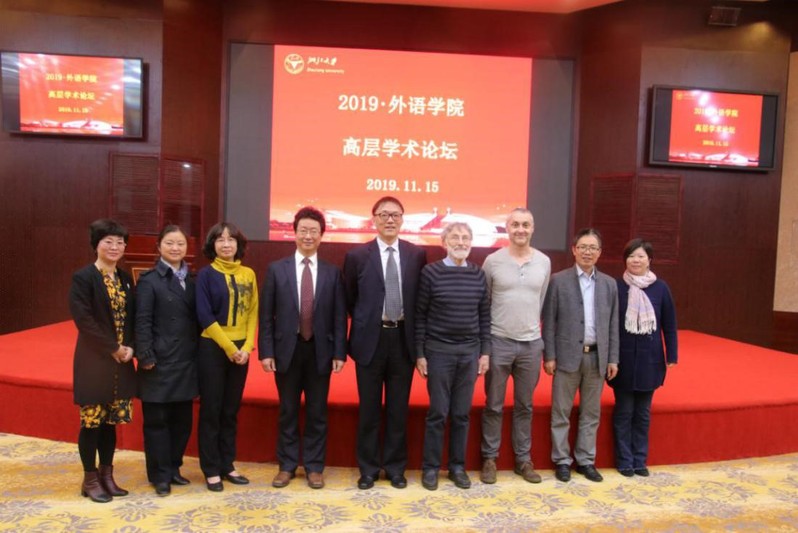 Prof. Jacob Mey and Prof. Zha Mingjian delivered keynote speeches entitled "Language and Value in Institutional Discourse" and "Advances in the Study of World Literature and the Deepening of Comparative Literature" respectively.
As a veteran expert in pragmatics, Prof Jacob Mey shared his latest theoretical findings by highlighting the importance of studying and standardizing institutional discourse for social and individual improvement. Meanwhile, he stated that dealing with practical socio-linguistic issues with computer languages provides more ideas and perspectives for the research.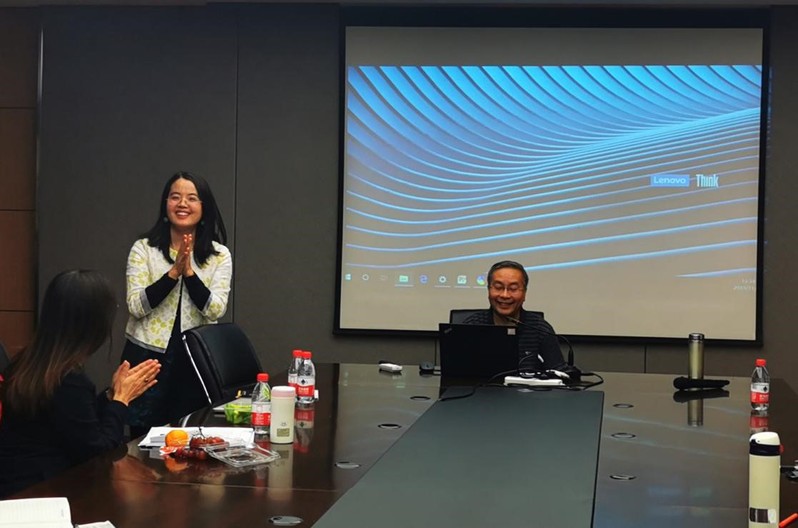 Prof. Zha Mingjian from SISU talked about researches on comparative literature, during which the obscure theories became comprehensible through his humorous expressions and vivid examples. He stated that world literatures were interconnected and served as a research problem rather than an object. He also stressed that the awareness of poetics problems should be embedded in parallel research, impact research, translation research, and interdisciplinary research.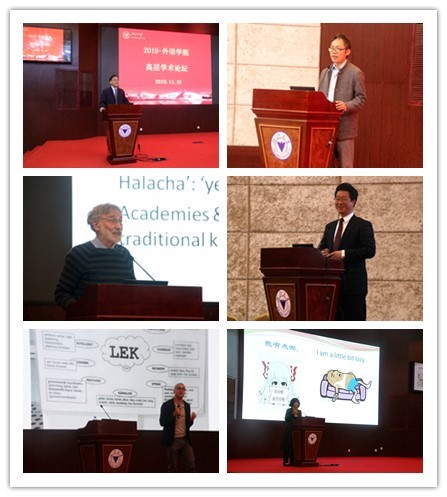 After taking a group photo and a tea break, Prof. David Machin and Prof. Dong Yanping, newly-introduced leading talents in humanities and social sciences, addressed keynote speeches named "Critically approaching flow-charts and diagrams in institutional settings" and "What does language training train?" respectively.
Prof. David Machin viewed the pros and cons of more and more flow charts and tables in institutional documents and reports dialectically and pointed out that we should have a correct view about the use of charts and ensure their practical and simple expressions.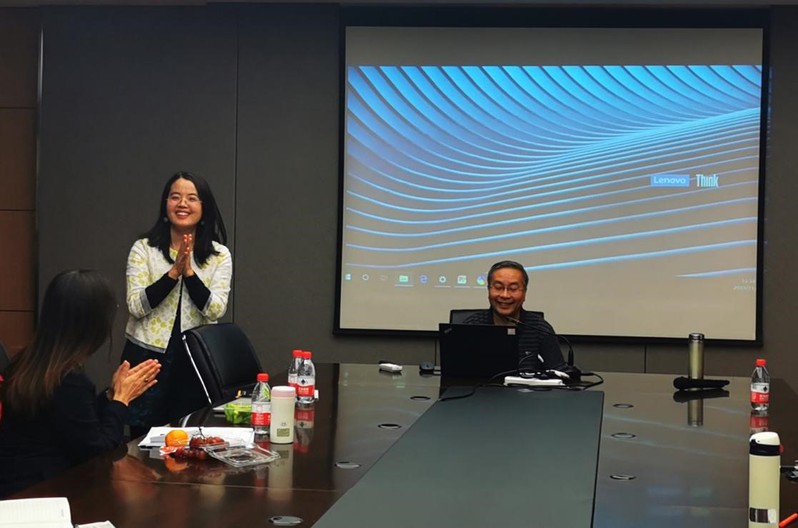 In her report, Prof. Dong Yanping with a multidisciplinary background interpreted what language training meant to the cognitive nervous system. Language tasks are very complex, and different language tasks may have different effects and impacts on the cognitive nervous system, which may affect language use and acquisition in turn.
The parallel session for linguistics was presided over by Associate Professor Zhang Huiyu at Room 201, East 5 Building.
In his report "Why so nervous? Identifying the sources of L2 Chinese learners' speech anxiety: A structural equation modeling approach", Mr. Sun Peijian set a research goal based on the definition and types of anxiety, its negative role in speech and inadequacies of relevant studies. Later, he made a literature review about the role, construction, linguistic and non-linguistic factors, and focused on the WTC model (willingness to communicate model). Mr. Sun carried out researches around the three models and showed the results with detailed data.

Prof. Jiang Jingyang's report is entitled "Data-Driven Research on L2 Syntax". At the very beginning, she highlighted the methods for data-driven research and the importance of syntactic research. She also reviewed the reasons for studying syntax with dependency grammar and related findings. Later, she expounded the research results of her team in four aspects.
In the end, Associate Professor Wang Zhiguang gave a report "Telling Chinese stories in English: Taking the translation of New Analects as an example". He shared his previous C-E translations and the stories behind in a humorous way. Later, examples in New Analects translated by Prof. Wang Zhiguang and his students were presented.
The students and teachers present gained much knowledge from the three well-prepared reports. The parallel session rounded off amid warm applause.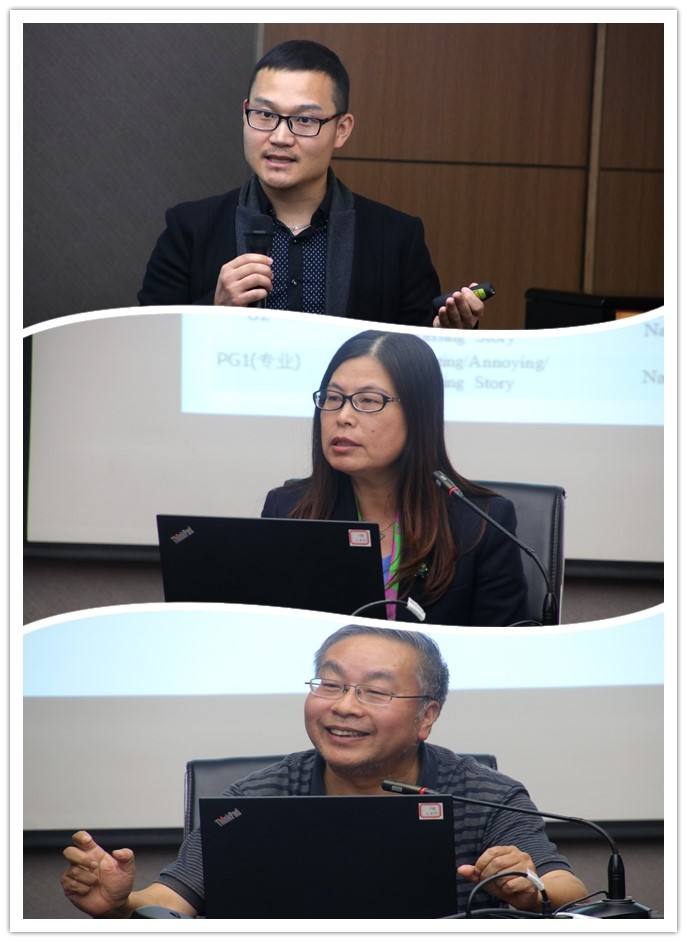 The parallel session for literature, translation and linguistics was presided over by Associate Professor Zhao Jia at Room 102, East 5 Building. Experts namely Gao Fen,Hao Tianhu and Li Yuan gave thematic reports.
At first, in her report "On 'form'—From Pythagoras's 'mathematical form' to 'formalist aesthetics' in 20th Century", Prof. Gao Fen contended that "form" should be clear in the studies on formalist aesthetics, and then explained the implied meanings of "form" from two perspectives. As for literary and artistic connotations, Prof. Gao looked back from the "outlook on form" in the Renaissance to some major ideas in 20th century. In the end, she interpreted the four stages of Fry's ontological restoration of "form" and the triple refinements of its connotations.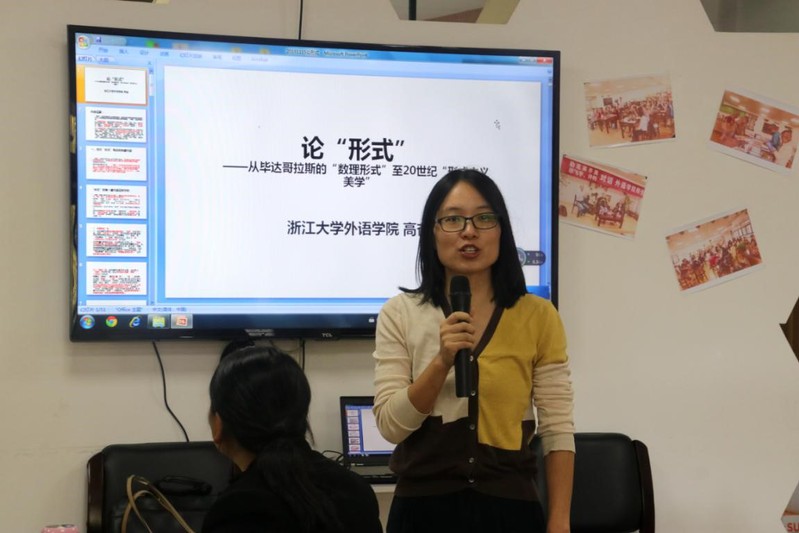 Then, in his report "Review and prospect of Chinese translation of Milton's Paradise Lost: Why is retranslation necessary?", Prof. Hao Tianhu illustrated several reasons for the retranslation of Paradise Lost, reviewed its Chinese version and mentioned bibliology in translation as well as the imprudence in the choice of translation copy.
At last, Prof. Li Yuan gave a report entitled "Study on the distribution and evolution of German word length". She indicated that despite its insignificance in traditional linguistics, "word length" is essential in theoretical linguistics network. Based on a literature review, Prof. Li's research results presented that the single point displacement hyper-Poisson distribution can well describe the law of German word length distribution in different ages and different types of texts; word length and word length distribution are affected by the age and type of the texts; the model parameter value of the single point displacement hyper-Poisson distribution can be regarded as one of the indexes reflecting the characteristics of the texts.
After the three reports, the students and teachers present had a heated discussion under the guidance of the host, igniting a collision of academic thoughts. Prof. Zhao Jia concluded that academic researches needed peace and persistence. For unceasing progress, we should update knowledge, strive for a breakthrough and deny ourselves constantly.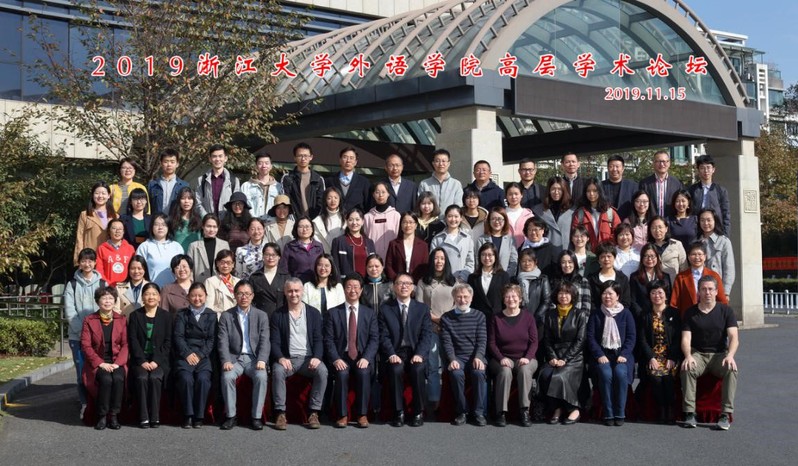 Photographed by Zhang Jue
Written by Yang Yilin, Zou Feifei, Li Fan and Lian Pei
Scientific Research and Local Cooperation Department
Translated by Liu Liu
Edited by Xu Xueying