On September 6, 2020, the branch workshop of the 5th International Workshops for Graduates of Zhejiang University, "Paper Writing and International Publication" (Sept. 1-6, 2020) ended successfully. The online workshop was sponsored by the Graduate School of Zhejiang University (ZJU), organized by the School of International Studies of ZJU and the English Writing Center of ZJU. International top journal editors and reviewers, prolific writers, and corporate executives were invited to give keynote speeches on research topic selection, academic writing, paper polishing and publication, academic career planning, technical writing, etc. At the end of each lecture, the experts joined a video meeting to have a dialogue with the keynote speaker. Each lecture attracts hundreds or even thousands of participants. The participants discussed and reported their puzzlements and questions in academic and research groups, managing to solve the problems with experts. On the whole, the workshop made a difference in ZJU graduates' improvement in paper writing and international publishing.
On the morning of September 1, Prof. Fang Fan, Vice Dean of School of International Studies and Director of English Writing Center of ZJU, gave an online opening speech, introducing workshop's significance, the schedule, and the function of the Center. She pointed out that the workshop was in response to graduate students' need to improve paper writing and international publication. Meanwhile, the workshop is committed to enhancing students' communication from different majors and building a community for writing and publication.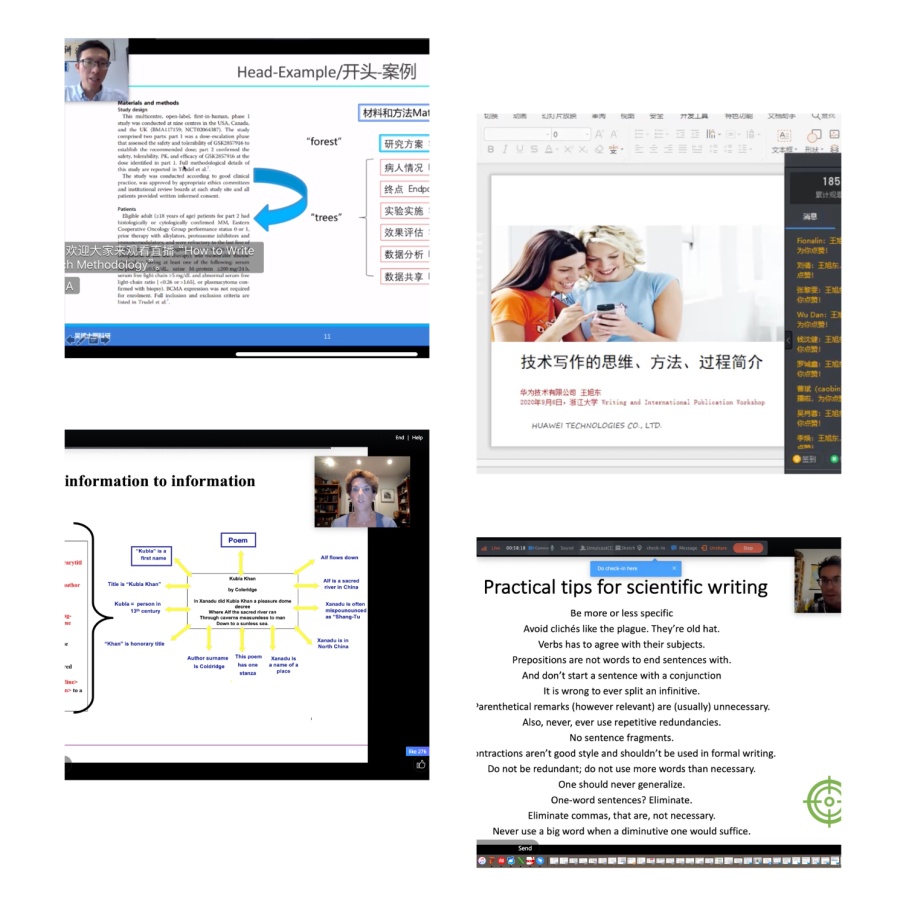 (Screenshots of keynote speeches)
The first keynote speaker was Dr. Philippa Benson, a senior editor from the United States. She gave three lectures in total. "Scientific publishing in 2020 and the imperative to share," "Becoming a better writer: fact and fiction," and "Changing your perspective on what makes success in publishing." Dr. Benson shared her paper publishing ideas, data sharing, how/where to start, and things that are worth attention. She demonstrated the process of reviewing and reasons for the paper being rejected. She offered her understanding of "academic success." After her presentations, Ms. Wang Danqing, General Manager of Frontiers in China, Dr. He Wenzhong from School of International Studies, ZJU, and Dr. Zhang Chunjie, Managing Editor of the Journal of Zhejiang University-Science (A/B/FITEE), were invited respectively to have a dialogue with Dr. Benson. Their further discussions have broadened the audiences' horizons and benefited our students.
The second keynote speaker is also a journal editor, Dr. Gareth Dyke. He has also made three presentations. They were "Fantastic mistakes and how to fix them: identifying and eliminating common English language issues," "The academic cycle: how to manage the publishing process as an author," and "how to identify and develop research projects and write them up as papers to enhance your career." Dr. Dyke's lectures focused on the academic publishing circle and discussed paper writing problems, submission, and review. He gave information on the core issues of scientific paper writing: motivation and topic selection, idea selling and writing, as well as writing preparation, and also put forward specific and practical suggestions for different stages of paper writing. After the lectures, Dr. Xu Qin from the School of International Studies, Dr. Wu Zhigen, the extramural tutor of English Writing Center of ZJU, and Ms. Chen Yanhua, faculty of School of International Studies, were invited to respectively have a dialogue with Dr. Dyke. They also led the Q&A sections and discussed with the students online.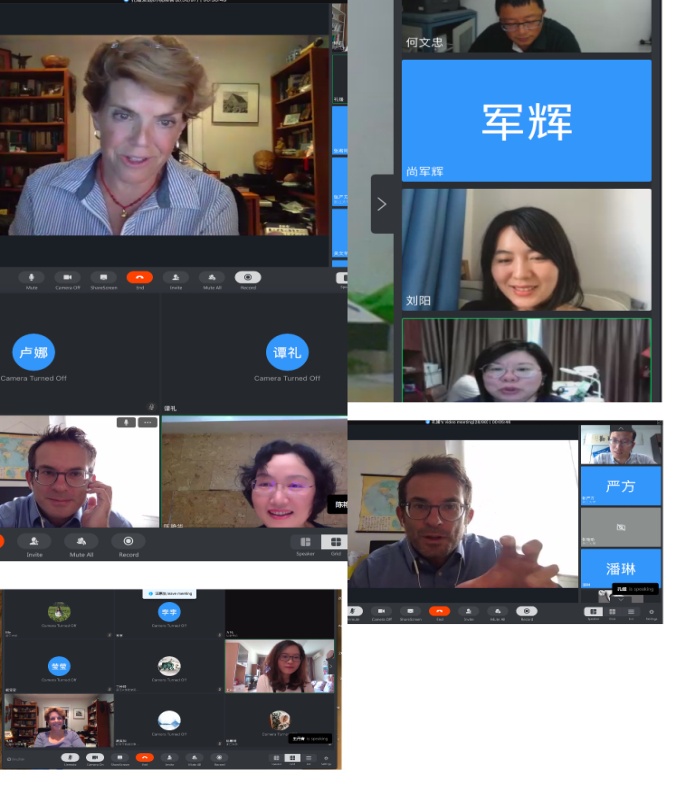 (Dialogue between keynote speakers and experts)
During the workshop, there were also three keynote speeches given by Dr. Wu Zhigen, an extramural tutor of the English Writing Center of ZJU, Ms. Dai Jun, a data development engineer from Hikvision Company, and Mr. Wang Xudong, chief data architect engineer from Huawei Company. The topics of their lectures were "How to write the research methodology section of a research paper", "Technical writing and its practice in cooperation", and "Thoughts, approaches, and process of technical writing". Taking reviewing samples as examples, Dr. Wu demonstrated the writing of research methodology and gave suggestions on literature reading and data analysis and description. Ms. Dai Jun and Mr. Wang Xudong's lectures on technical writing attracted students from Polytechnic Institute, and the number of online watching exceeded one thousand. Prof. Fang Fan and Dr. He Wenzhong had dialogues with the three speakers respectively, which helped students deepen their understanding of academic writing and technical writing.
During the six-day activities, the participants were divided into groups of different majors and had discussions on their problems in scientific research. Prof. Fang Fan and Dr. He Wenzhong also participated in the online discussions, answering the students' questions about scientific writing and publication.
The workshop, featured in contents, was flexible in form and witnessed high involvement in participation. After the workshop, questionnaires were released to collect the students' feedback. The result showed that many students had gained a lot from the workshop. The students' feedback will be taken into account in our preparation for the subsequent lecture series to contribute to the improvement in academic writing and paper publication for graduate students.
Written and Photographed by: Kong Yuan
Reviewed by: Shen Xuhua
English Writing Center, Zhejiang University
School of International Studies, Zhejiang University