On September 9, 2022, the branch workshop of the 7th International Workshop for Graduate Students of Zhejiang University, "Paper Writing and International Publication" (Sept. 5-9, 2022) ended successfully. The online workshop was sponsored by the Graduate School of Zhejiang University (ZJU), organized by the School of International Studies of ZJU, and aims to improve graduate students' English paper writing and international publication through online lectures and discussion. This 5-day workshop invited editors of high-level international academic journals of various fields to illustrate the features of their journals, show differences between papers accepted and rejected, and share their ideas about peer journals, etc., to promote our understanding of the academic paper writing and international publication.
On the morning of September 5, Prof. Fang Fan, Chair of the English department, gave an online opening speech, introducing the workshop's significance, the schedule, and the function of the Center. She pointed out that the workshop was in response to graduate students' need to improve paper writing skills and promote understanding of international publication. Meanwhile, the workshop is committed to enhancing students' communication from different majors and building a community for writing and publication.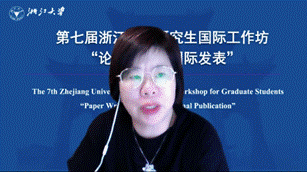 Nine keynote speakers, Prof. Cheng Le, Dr. Gareth Dyke, Prof. Placido G. Martinez, Prof. Nigel Harwood, Prof. John R. Schrock, Prof. Yang Gexin, Prof. Zhang Chunjie, Dr. Aline Luckgen and Prof. Wu Bin, are all editors-in-Chief or editors of top journals in their own academic fields. Based on their own experiences of paper writing and editing, they understand the challenges of writing for graduate students, especially for those of English as second language. They provide examples of well-structured articles submitted to international journals, showing a list of the common 'mistakes' and discussing facts about publishing for new authors. Audiences from those academic fields such as literature, linguistics, law, marine studies, medicine, biology and architecture participated in the workshop enthusiastically. The audiences' got benefited a lot when their questions are answered patiently by speakers.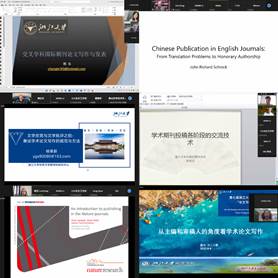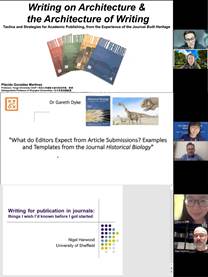 The workshop, featured in contents and form, witnessed high involvement in participation and after-lecture discussion. After the workshop, questionnaires were released as usual to collect the students' feedback, which will be taken into account in our preparation for the subsequent lecture series to contribute to the improvement in academic writing and paper publication for graduate students.
School of International Studies