On April 7th, the First Session of Scholar's Luncheon in 2022 was held by Institute of Linguistics and Applied Linguistics in Foreign Languages as scheduled. With Prof. Shao Bin hosting, Prof. Teng Lin gave a lecture entitled "Assessing the Effectiveness of Self-Regulation Strategy Instruction in EFL Writing Classrooms", attended by 30 students and teachers from School of International Studies, Zhejiang University.
At the start of the Luncheon, Prof. Liang Junying expressed her gratitude on the interest and support by all the attendees, and relayed a message from Prof. He Lianzhen, Director of the Institute, to young students and teachers. They are expected to attach more importance to (1) studies on fundamental issues that are original, insightful, and theoretically well-founded, (2) studies on applied issues, especially applied linguistic studies that pertain to the reality in China, and (3) the primary role of a teacher as a committed educator who highlights moral education and student cultivation with all his/her erudition, taste, virtue, and devotion.
Prof. Liang said that all the teachers should stay true to the original aspiration and make unremitting efforts in moral education, student cultivation, academic innovation and national service. Therefore, the Institute has planned to initiate sessions of Academic Luncheon to promote academic exchange and cooperation in a research-friendly environment.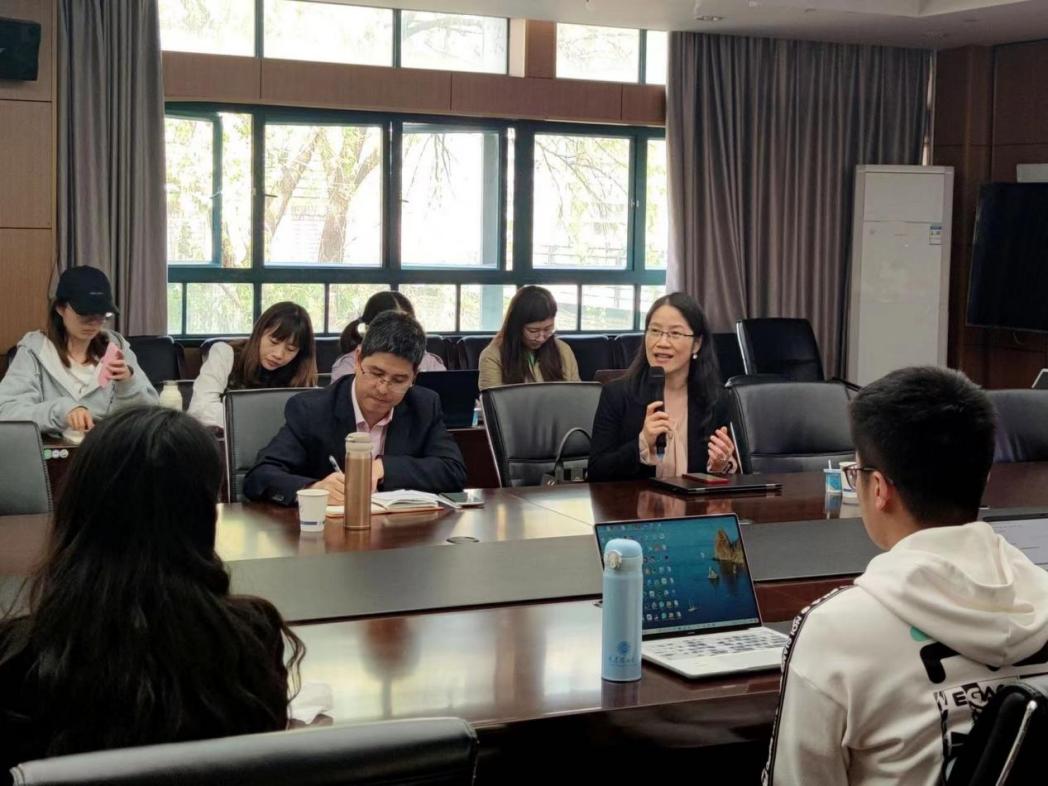 Prof Teng's lecture centered on the effectiveness of self-regulation strategy instruction in EFL writing. Starting with her experience as a teacher as well as a researcher, she expounded on ways to apply interdisciplinary theories to EFL teaching and applied research. After introducing a few key concepts in pedagogical psychology, such as self-regulated learning and explicit teaching strategy, she explained the characters of the paradigm of Quasi-Experimental Design, and ways to carry it out in teaching practice. Finally, she detailed the key issues in her research, such as teaching modes, teacher training, intervention validity, and measuring methods. She also shared her own story of getting published on first-tier SSCI journals of linguistics, such as Journal of Second Language Writing, and Assessing Writing.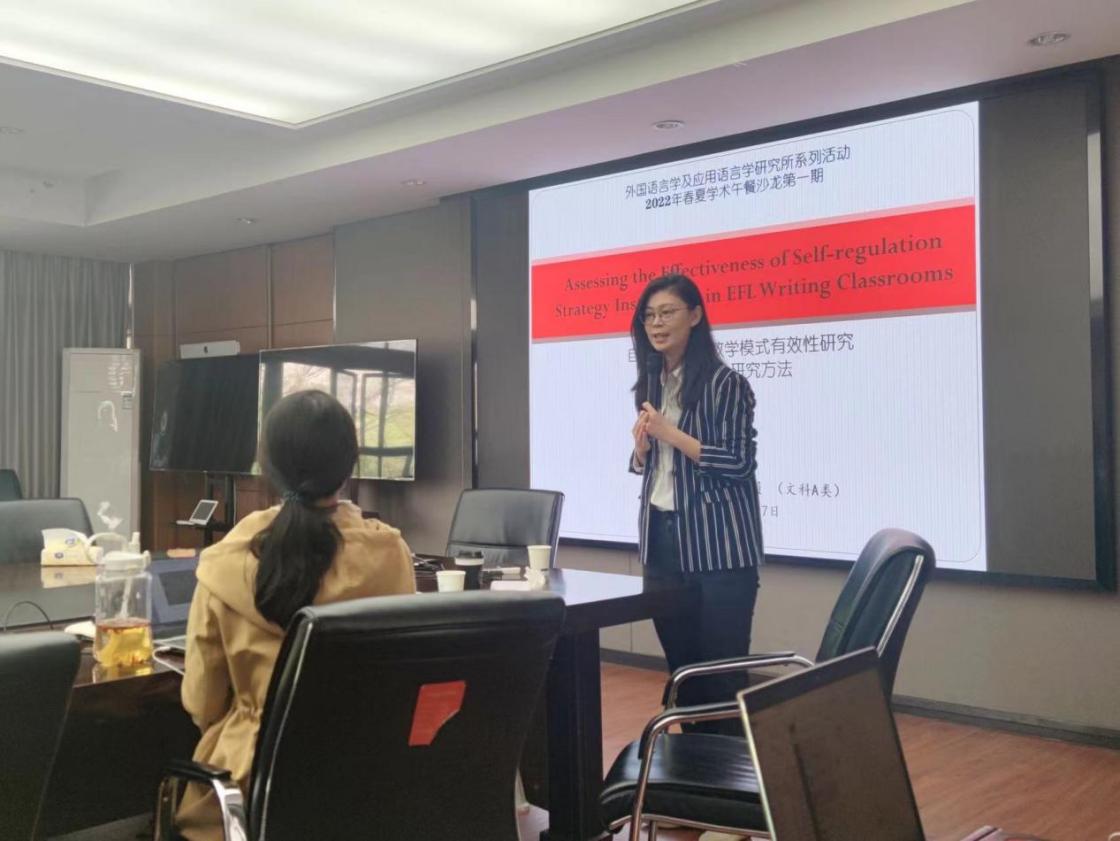 Following her lecture, questions raised by attendees were patiently resolved by Prof. Teng. Inspired by the lecture, Prof. Liang summarized the qualities of welcomed articled in foreign language teaching: a novel theoretical framework, a highly specific perspective, and a hot topic in academia. The first session of the Luncheon was thus concluded with a huge ovation.
Guided by the principle of "integrated strength, interdisciplinary innovation, service-oriented and world-class development", the Institute has discovered four specialties that distinguish it from others, namely theoretical linguistics, quantitative linguistics, psycholinguistics, and development and assessment of language proficiency. To forge a world-class discipline of foreign language and literature, the Institute is focusing on the international frontiers of linguistics and China's development strategy, so as to enhance its comprehensive capability in studying linguistics and applied linguistics in foreign languages.
Institute of Linguistics and Applied Linguistics in Foreign Languages
Translated by Cai Zhengwu, Revised by Xu Xueying